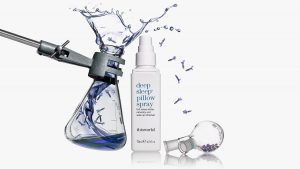 Sleep and skincare brand This Works has partnered with the world's first and only voice-activated sampling programme, Send Me A Sample, to celebrate World Sleep Day by offering UK consumers a free trial of its best-selling Deep Sleep Pillow Spray.
Customers will be served ads across Facebook with the Send Me A Sample call to action, prompting consumers to request a sample of the brand's famous pillow spray via Google's Home Assistant or Amazon's Alexa. Upon receiving their sample, customers will also be given a coupon to drive future purchases and brand loyalty.
It's the first time the UK sleep and skincare brand has used voice to get its product into the hands of consumers, and a first for the sleep category.
This Works joins beauty brand Benefit Cosmetics in the use of this new revolutionary marketing technology. Benefit Cosmetics partnership with Send Me A Sample saw 100% redemption of 10,000 samples in just three days, with over 6,500 samples requested in the first two hours.  
A spokesperson from This Works says "Our reputation as experts in sleep has been built on word of mouth. It's one thing for a brand to tell consumers that a product will help them to sleep, it's another for them to be able to summon a sample to trial, completely free of charge, from the comfort of their own home.  Since day one our sleep business has been driven by both sampling and word of mouth recommendation, which is why we're delighted to be one of the first UK brands, and first sleep solution, to be sampled via Voice."
Will Glynn-Jones, co-founder of Send Me A Sample, says "It's great to see yet another UK household brand embracing the power of voice, as well as understanding the importance of data when re-targeting and building ongoing relationship with consumers."
To receive a free sample, consumers must register with Send Me A Sample, and ask a voice-assistant to "send me a sample of This Works". Samples are available from 15th March, while stocks last.
Source: Send Me A Sample