This Heritage Month, Toyota South Africa and its long-standing agency, FCB Joburg, have created a 'beaded billboard' with the help of KZN community-based NGO Woza Moya to celebrate the love Toyota Corolla owners feel every time they drive their cars and celebrate the Corolla heritage.
In the Zulu culture, love letters are traditionally crafted out of beadwork by Zulu women, each is a work of art and totally unique. This truly South African declaration of love seemed like a fitting way to celebrate South Africa's most-loved car.
The beaded billboard measures 12 meters by 9 meters, weighing over 1 tonne, and comprises over 138 000 individual beads sewn together by 350 crafters from Woza Moya. Woza Moya is the economic empowerment project of the Hillcrest AIDS Centre Trust in KwaZulu-Natal, where Toyota SA has manufactured Corollas since 1975.
According to Creative Director responsible for the design, Janine Kleinschmidt, the decision to celebrate Corolla and Corolla drivers in this way was sparked by the thinking behind the Special Edition Corolla, which rolled out earlier this year.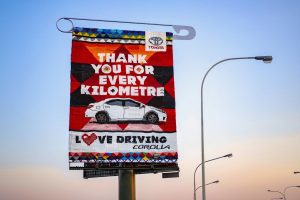 "Toyota SA wanted to celebrate the fact that Corolla has been the most-loved car in South Africa since 'forever' while entrenching its positioning 'Love Driving'. The intricate workmanship in the Special Edition Corolla launched earlier this year was evocative of the uniquely South African visual language of Zulu love letters, so we used this for the art direction and design of the campaign," she explained.
"Our decision to create a love letter that was also a billboard came from the fact that this would have been a common feature alongside the roads the Corolla and Corolla driver would have travelled together. We absolutely love what we've achieved, and we're thrilled that Toyota SA insisted the campaign include a large corporate social responsibility element. It has been an honour to work with the crafters from Woza Moya."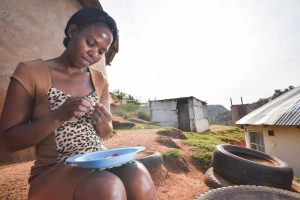 Toyota SA Vice-President Marketing, Glenn Crompton confirmed: "It was vitally important for us that this campaign, an act of thanks to Corolla drivers and their Corollas, also said 'thank you' to the community in which our Corollas are put together. Since 1975, the Corolla plant has been in KwaZulu-Natal, so the fit between Woza Moya and the campaign was ideal. We're thrilled to have been able to create work for the crafters who belong to the initiative."
The Toyota Corolla Beaded Billboard, located alongside the M1-De Villiers Graaf (26°13'0.26"S 28°1'25.52"E), will be unveiled on 15 September so that it 'flights' for a month around Heritage Day (24 September).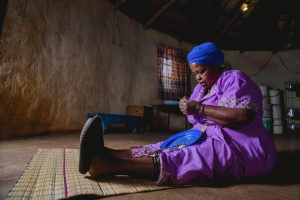 The billboard and the social media campaign that will help spread the message and communicate the great work done by Woza Moya was devised by the FCB Joburg Creative Directors Tian van den Heever and Janine Kleinschmidt, Copywriters Esté de Beer and Marina Andreoli, and Art Directors Julie Thorogood and Thato Moatlhodi.
Source: FCB Joburg