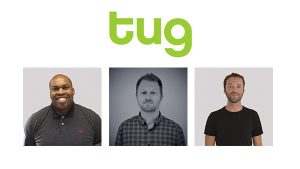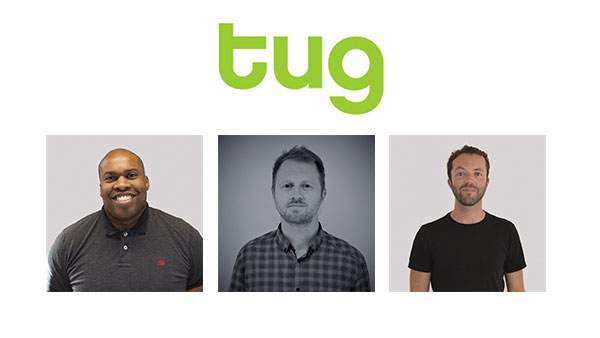 Tug, an international Digital Performance Marketing Agency, announced it has appointed Tug alumni Ollie Vaughan as its new Chief Media Officer, Asher Gordon as Head of Biddable Media and Christian Jones as Commercial Director.
In his new role, Ollie will be primarily responsible for developing Tug's marketing strategy as the company looks to expand globally. He will also be working with the company's Data and Technology team to develop analytics tools that will keep Tug at the cutting edge of the digital marketing sector. Ollie will work closely with Tug's creative department to optimise channels and creative in real-time to deliver the best results for clients.
Asher will lead on Tug's biddable media offering and collaborate with all parts of the agency to ensure excellent results for its clients. Christian will be responsible for identifying new business opportunities in the media, creative and technology space working closely with the company's C-suite.
Prior to joining Tug, Ollie was the Head of PPC division at Wavemaker. His experience spans brands such as BMW, Nationwide and BUPA. Similarly, Asher began his career at Wavemaker, previously MEC, and left as Digital Director after six years. He joins Tug from PHD Global Business bringing experience from brands such as Porsche, Airbus and Bentley. Christian's background includes stints at Lastminute.com, Myspace, Teads, Time Inc and Merkle.
The appointments come after Trefor Thomas was hired as Chief Creative Officer in May and Eoin O'Neill promoted to Chief Technology Officer and Global Head of SEO in April.
Nick Beck, CEO, Tug said: "We're delighted to welcome Ollie, Asher and Christian to the team. As one of the original team members, Ollie's understanding of technology, media and creative makes him the perfect fit for this new role and we hope to see a lot of change in the right direction with our new leadership team. We now have a strong executive team in place and we are confident that. Asher and Christian will bring new and fresh approaches to the team from his vast experience with big brands and agencies. They were all drawn to the team because of its seamless approach to media and creative, believing this is the future of digital and one which many still haven't perfected."
Ollie Vaughan, CMO, Tug said: "I've returned to Tug because I believe we are one of the only (if any) agencies with an approach that truly thinks about the audience first, and plans media and creative at the same time to allow for the most effective campaigns that drive real results. I look forward to implementing my knowledge and experience at Wavemaker, working with the new senior team and wider agency to make the business the best it can be."
Asher Gordon, Head of Biddable, Tug said: "Tug is a great agency, with talented people and an ambitious leadership team. I share the team's vision of an audience first approach, using data and technology to inform the creative. It's an exciting time to be joining the team and I look forward to being a part of the agency's future."
Christian Jones, Commercial Director, Tug said: "Tug is paving the way for merging media, creative and technology in way that will set them apart in the industry. I am excited to be joining the team to help drive and demonstrate the benefits of this concept."
Source: Tug