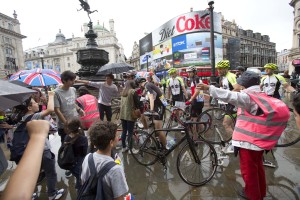 Londoners came face to face with a lost cycling team on July 7 asking for directions to 'the big race'. The stunt comes from UKTV's Dave channel and organised by communications agency Initials.
The supposedly-lost team of nine cyclists' route around London kicked off at Liverpool Street Station. They caused a big scene as they passed through busy areas such as St. Paul's Cathedral, Covent Garden and Piccadilly Circus before heading to their end destination: The London Eye. The team, dressed up in full cycling gear, complete with numbers and custom branding, stopped regularly to ask passersby in broken English and a French accent if they have seen the big race?
Images from the ride are being pushed out on social media, featuring people's reactions to the event and behind-the-scenes of the team setting up. The best overheard conversations from the day are also being tweeted.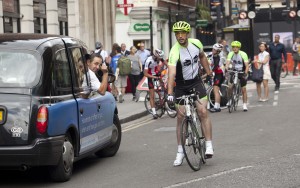 The stunt was developed to showcase Dave's unique personality, often seen on the channel itself, to share a laugh with a much wider audience.
Will Gunton, senior brand manager of Dave, said: "It was a bit of fun that we knew would turn a few heads as the race came through town. The channel is home to some of the best contemporary comedy around but we also want Dave to be seen as a witty and proactive brand in its own right. The concept Initials came up with was a perfect way of doing just that."
Sam Brownfield, creative strategist at INITIALS, added: "We wanted to find the right balance between creating something believable whilst still turning heads and providing a source of entertainment. The authenticity of our branding created the impact throughout the team's journey."