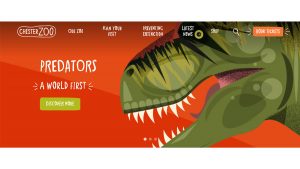 Ultimate Creative Communications has just launched the new Chester Zoo website, placing it firmly on the map alongside other leading attractions worldwide.
Using Chester Zoo's existing powerful brand, Ultimate have been able to showcase everything this world-leading zoo has to offer. Preventing extinction is the Zoo's top priority and the website has a vital role in raising awareness of their conservation efforts and driving donations.
Chester Zoo is a brand that's full of life, excitement and fun. It's constantly expanding, with new audiences to engage, campaigns to launch and challenges to overcome, and needed an agile website that could grow with it.
Ultimate's refreshed site has consolidated all of Chester Zoo's sub-brand microsites into one, guided by user experience testing across multiple devices and interactive workshops with all the key stakeholders.
Every decision was made with the Zoo's core priorities in mind, such as increasing the number of new and repeat visitors, improving email and social media engagement and growing the number of online donations.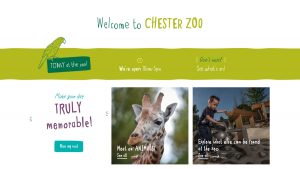 Ultimate have created a platform that enables Chester Zoo to easily monitor and measure its performance, necessary for informed future changes and content.
This is a website that is fun and easy to use, with lots of amazing animations and relevant content to keep people coming back time and time again. It's like visiting the Zoo itself online!
A detailed SEO keyword strategy was created in conjunction with the site to ensure that visitors can quickly find the information they are looking for. All of the sub-brands are still represented, each boasting a unique brand style that can be used in creative and imaginative ways through the flexible CMS system.
Founder and CEO Matt Towsend said: "Everyone at Ultimate is incredibly proud of the website that we have produced for Chester Zoo. It delivers on everything that the client was looking for and more, establishing them as a major player on the world stage. We know that this is a site they will be able to make excellent use of for years to come, thanks to the level of flexibility we've provided them with."
Source: Ultimate Creative Communications