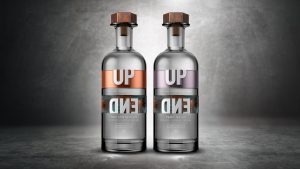 Introducing the first preview of UpEnd gin before it's first release in late February 2019, with brand identity and packaging developed by Nude Brand Creation. New to the scene, UpEnd is a distiller focused on honouring the long tradition of gin but with a modern twist.
Founded by friends Matt Mckee and Chris Lofrese, the idea came from a journey of drinking gin together and experimenting with different flavours. The pair (from Upstate New York and the East End of Long Island) have used their different backgrounds to redefine gin with unique and distinct recipes.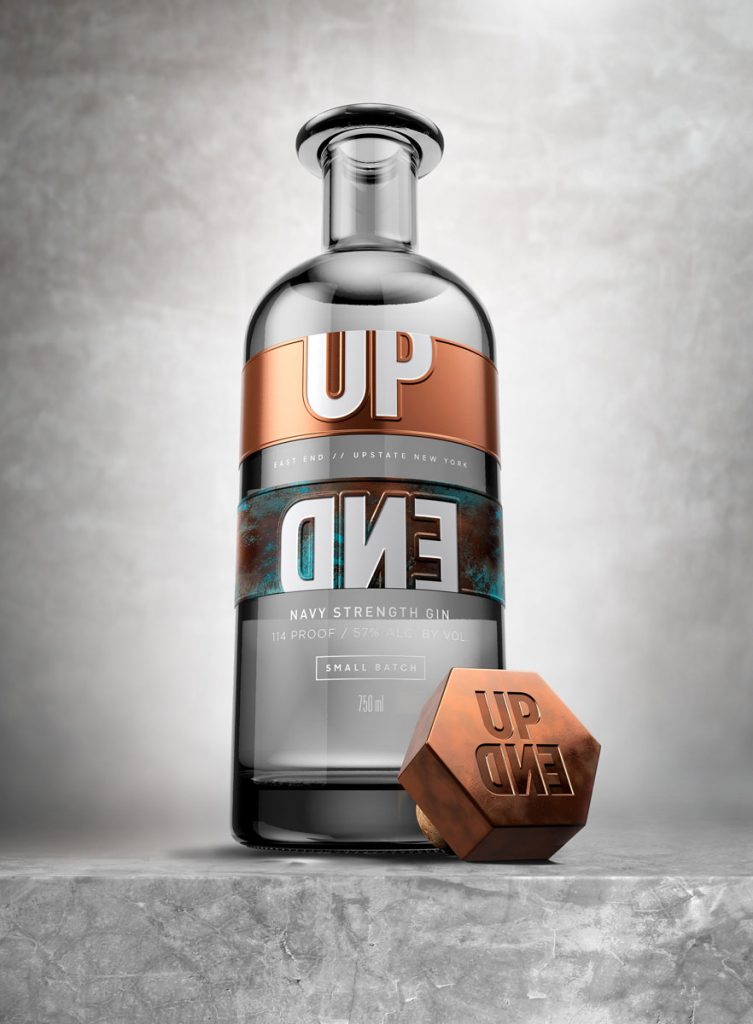 The bottle was designed to turn gin on its head and takes influences from traditional aged copper stills and the urban environment of iconic New York City.
The bespoke bolt stopper is a premium die-cast metal-top with an antique barrel plated copper finish and both labels are printed onto a flexible aluminum substrate that allows the branding to be embossed over the top – helping to emphasise the thick, metal stock.
Nude has worked tirelessly to find impactful materials and processes to break away from perfect finishes and design an urban masterpiece that would fit into any city. The jarring bottle shape is a dark smoked grey to reflect the gritty urban environment and build mystery into the final product – perhaps concealing the product so that it truly relies on taste and not perception.
Tony Enoch, Partner at Nude Brand Creation said: "Working really closely with Matt and Chris over the last year has helped craft a totally unusual and eye-catching bottle that will not only stand out on-shelf but also the test of time. Unlike a lot of the heavily crafted and intricate designs out in the market at the moment, UpEnd gin aims to be disruptive in an increasingly overcrowded environment."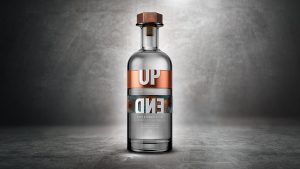 Matt McKee said: "Unfortunately, many view gin as a singular flavour profile that they either love or hate. Chris and I want to change that perception by reinvigorating this classic spirit which has an extraordinarily wide definition. We developed a range of familiar yet bold recipes that accentuate the diversity of flavours that gin can deliver."
UpEnd Navy Strength Gin is the first iteration and the flagship gin that pays homage to the history of gin.  The high proof is matched with a ton of juniper and a bold botanical recipe that includes coriander, lavender, liquorice root, cinnamon, clove, and citrus, which rounds out the flavour beautifully. This will be followed by a Sweet Tea Gin as the range quickly grows.

As a collaborative team, Nude and UpEnd have shaken things up and pushed quality to its limits. Available in selected outlets in the United States from February 2019.
Source: Nude Brand Creation