To support the launch of the Zyrtec Allergycast app on Google Assistant, Versus and Society created "Art of Allergies," a social-focused spot that is part of the broader Allergycast campaign.
The Zyrtec Allergycast app gives real-time allergy information, including pollen count, local weather and predominant allergens found in the area, simply by asking Google Assistant to "talk to Zyrtec."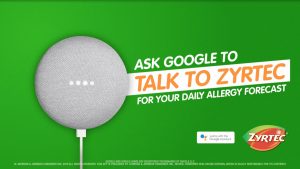 Playing off the tagline, "Allergy season is only beautiful when you're prepared," the spot brings the top seasonal allergies to life in a beautiful animation.
Versus used vector based design and 2D and 3D animation to create a Kaleidoscope of allergens including sunflowers, asters, chrysanthemums, daisies and more. The Kaleidoscope then unexpectedly arrives at the Google Home Assistant, tying the whole campaign together.
Versus was responsible for the design, animation and editorial for this campaign, which is running on social media and as pre-roll, as part of the broader Allergycast campaign.
Source: Versus