Virgin Experience Days have released their first ever TV ad to launch their new 'Give them a great story to tell' campaign.
The action packed 30 second spot was created by Atomic London and will run across TV channels including Discovery, Sky Atlantic and Food Network, as well as Digital and Social channels from Monday 2nd September. Given the importance of Christmas in the gifting sector, there will also be a Christmas version of the campaign on air over the festive period.
The film uses a match cut technique and sees people given a dramatic foretaste of their gifts, such as falconry or a cocktail masterclass when they touch the red book gifted to them. In a humorous final scene, an inquisitive 86-year-old lady finds herself suddenly strapped to a skydiving instructor as they free fall at 15,000 feet. The red book was also created by Atomic and will now feature at the heart of the actual gift experience when ordered from Virgin.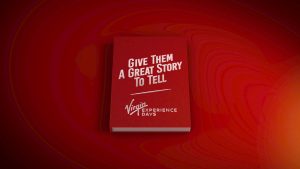 "We wanted to create a campaign that highlighted the difference between giving a material gift and an experience gift," says Dave Henderson & Guy Bradbury, Creative Partners at Atomic London. "Giving an experience for a gift means so much more than just handing over a physical gift, it does something special for both the giver and receiver, it actually gives them both a great story to tell."
Dan Pearce, CMO at Virgin Experience Days comments: "We are thrilled to be able to share our first ever TV ad with the world. We have built an incredibly successful business through digital marketing channels and now is the perfect time for us to begin building our long-term brand, as we seek to strengthen our position as the Uk's No1 Experience Gift brand. We're eager to see how our customers react to this first burst of TV activity."
Atomic won the Virgin Experience Days account earlier this year after a competitive final pitch against Above & Beyond and Snap London.
Source: Atomic London