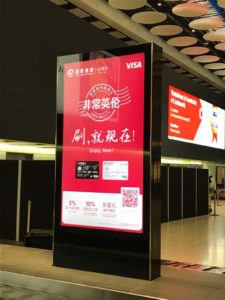 PSI, Posterscope's international division, has signed its first hotel wifi sponsorship deal, for Visa China, as part of a wider out-of-home (OOH) campaign promoting its China Merchants Bank card to Chinese tourists as they arrive, travel to and stay in London.
The sponsorship, delivered in partnership with Luxia Global and Starcom UK, incorporates sponsorship of guest wifi services in 68 four and five star hotels across London throughout July. Users will be identified through browser language, served messaging in Chinese, and later retargeted with digital ads on relevant tourist and shopping websites.
The sponsorship completes a campaign appearing along the Heathrow to London "travel corridor" featuring digital OOH sites throughout Heathrow's T5 terminal, lamppost banners across Central London and in shopping hotspots, plus a wrap of a Central London tourist bus.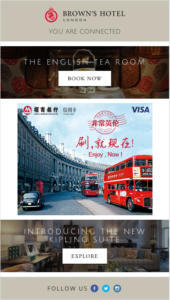 James McEwan, deputy MD, at PSI said: "We are delighted to have been able to secure this sponsorship opportunity and add a targeted element to Visa's wider campaign for its China Merchant Bank card. By supporting the provision of wifi in key hotels frequented by Chinese visitors to London, we are able to put the brand directly into the hands of the target audience at a time when they are relaxing and open to receiving brand messages."
A spokesperson for Starcom UK, added: "The sponsorship of guest wifi is an exciting addition to our campaign for the China Merchant Bank card. The ability to reach these travellers in their own language as they arrive in London, and be associated with such a highly valued service as guest wifi is a great manifestation of Visa's brand desire to be 'everywhere you want to be'."
Source: Posterscope