Following a launch at the Sundance Film Festival, TIME and Felix & Paul Studios have made an exciting announcement. After sending VR cameras up to the International Space Station in December 2018, they are ready to start shooting a year-long VR project, 'The ISS Experience', that will provide people on earth a never-before-seen perspective of space.
Working with the Emmy-winning Directors, Felix Lajeunesse & Paul Raphael, and Sailor Productions (PSN Canada), astronauts from several countries aboard the station will film their daring missions in cinematic virtual reality.
Known for working together on ambitious and forward-thinking productions, Felix & Paul Studios and production service company PSN Canada will capture the first-ever extravehicular activity (EVA, or spacewalk) in VR. Using Z CAM V1 Pro cameras, two VR camera systems have been built specifically for this mission and are scheduled to launch into space later this year. The VR camera will be mounted on the Canadarm2 robotic arm, which can be controlled from the ground.
"Our client's dream was to capture VR content in space; achieving this has been a real adventure, with very high technical, logistical and political challenges," says Mathieu Dumont, executive producer at Sailor Productions (PSN Canada).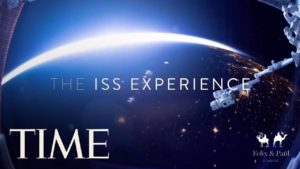 "Building close relationships with the collaborators at NASA and CASIS (Center for the Advancement for Science in Space) has been key to the success of this project. We had to involve and coordinate with many different departments at NASA. Not only did the filming have to integrate with their ongoing operations, we had to make sure all of the creative, technical, logistical and financial goals could be understood and achieved by everyone".
On the station itself, the cameras are operated by the astronauts, whose operations in space are planned and controlled to the minute. In order to get permission for the shoot, TIME, Felix & Paul and PSN Canada needed confirmation from the astronauts that they would be willing to participate. CASIS also needed to provide and guarantee a certain number of crew hours to be invested in the filming, whilst on their mission in space.
"We are very grateful for the contribution of all collaborators, I think everybody is very excited about this visionary project and we are thrilled to be part of it", said Dumont. "Now everyone is focused on the filming operation procedures, aiming to cover all the creative goals."
A big part of PSN Canada's contribution was ensuring the correct and most effective equipment would be available and would receive the certification from NASA to be authorised to fly. Equipment must go through extensive checks before being sent into space. Using Z CAM V1 Pro cameras, Felix & Paul Studios built two custom cinematic virtual reality camera systems that were certified by NanoRacks and NASA. These cameras were launched into space on board a SpaceX Dragon cargo spacecraft on December 5th 2018.
The series will be distributed as both a digital XR experience and physical ticketed experiential exhibition at select museums and public locations.
Source: PSN Canada