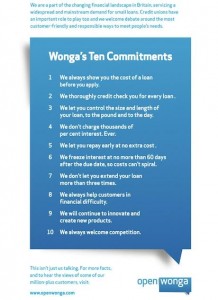 Wonga has launched a rapid response ad campaign days after the Archbishop of Canterbury said he vowed to "compete it out of existence".
The ads , which have appeared in national press on July 26 and are due to appear in digital and digital out of home over the weekend, aim to dispel some people's interpretations of the Archbishop's comments, who may have believed they meant the lender was an "unacceptable business".
Justin Welby, the Archbishop of Canterbury, told Total Politics magazine last week he had said to Wonga chief executive Errol Damelin with reference to the Church of England's burgeoning credit union movement: "We're not in the business of trying to legislate you out of existence, we're trying to compete you out of existence".
Welby was left red-faced, however, when it later emerged the Church of England's pension fund had been an early investor in Wonga when it was first looking to launch in the UK.
Wonga's "Ten Commitments" campaign was planned and bought by media agency PHD. The commitments include: "We always help customers in financial difficulty", "We don't charge you thousands of per cent interest. Ever" and "We will continue to innovate to create new products".
A post on the Open Wonga blog says: "Our Ten Commitments make clear the principles the business is built upon, so you can make your own mind up on the type of organisation we are and the type of people who use us".
In its most recent bid to prove it is a responsible lender, Wonga launched an ad campaign in June to promote its "no hidden charges" offer.
Wonga is also understood to be sponsoring a Channel 5 "action" programme Go Hard or Go Home, which will air from this Autumn. It is also the shirt sponsor for Newcastle United Football Club.