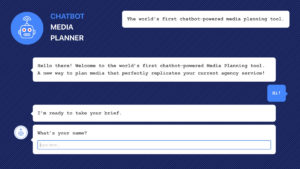 Yonder Media, the agency formed earlier in 2018 by The Beyond Collective, has created a spoof ChatBot Media Planner that claims to offer clients a perfect replica of their current agency service in Chatbot form.
Calling itself "the world's first chatbot-powered media planning tool", it offers to analyse each advertiser's specific requirements before producing a sophisticated tailored media plan in real time.
In reality, no matter what parameters are set for the ChatBot – from  brand, to target audience, and communications objective – it will spit out the same answer every time.
Yonder's stunt highlights that too many media agencies are churning out the same recommendations to their clients time after time, regardless of their brand, audience, or objectives – thereby diminishing the creativity of UK media and the effectiveness of clients' marketing budgets.
The message is, of course, that if you want a bespoke, creative response you need to go to a different type of media agency, in the shape of Yonder.
Ed Cox, Founder of Yonder Media, said: "The ChatBot is meant to be a bit of fun, but with a serious point behind it. The sad fact is that the client experience of many media agencies is that no matter what your brand, your challenge, your audience, you are often served up with the same old media plan, the same old media thinking and yet another copy and paste response to a brief."
"Audiences have moved on, the way media is being consumed has changed fundamentally, but most media agencies are still stuck in the old ways of doing things: wedded to share deals, unable to devote proper time or thinking to campaign planning – and in the end, it's the client that is missing out with a total lack of strategic and creative thinking. That's why we launched Yonder Media – to offer a quality alternative to the dominant market offering."
Source: Yonder Media