Young's Seafood Limited, the UK's leading fish and seafood company, is investing heavily in the Frozen fish category with its biggest ever advertising campaign. The £5 million pound campaign will lead with Gastro TV advertising and, in a first for Young's, a six-month TV sponsorship on UKTV's Drama channel.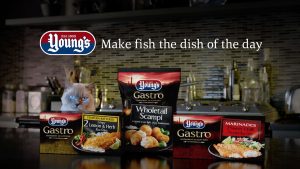 Young's brand ambassador, Malcolm the Cat will return to TV screens nationwide as he features in two new adverts promoting Young's top selling Gastro Basa lines. The adverts will also introduce new Gastro Tempura Battered Chunky Fish Fingers and Gastro Sweet Chilli Marinated Basa fillets. The adverts will be aired on during primetime programming on ITV.
The brand will also be broadening its national advertising campaign by 'sponsoring captivating moments' on UKTV's Drama channel from January. The six-month sponsorship will see a series of bumper idents showcasing 10 of the best-selling Young's SKUs, several of which have not previously been advertised on TV.
Yvonne Adam, Marketing Director at Young's Seafood Limited, said: "We're investing heavily in the category with our biggest ever advertising campaign, and demonstrating some real innovation, with our sponsorship of Drama sharing the breadth of our full portfolio to over 30% of all adults."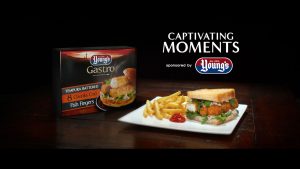 Following the success of last year, the integrated campaign will also see Malcolm return to the airwaves in a nationwide partnership with heart FM radio, and will be amplified by an innovative, targeted digital marketing and PR campaign to further drive the Gastro message.
The Young's Gastro range is currently worth £63.2 million, its highest ever level, growing at 4.8%. The Total Young's brand is worth £170 million.
Source: Young's Seafood Limited