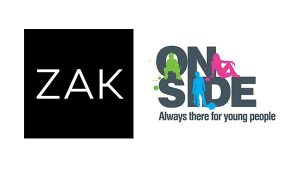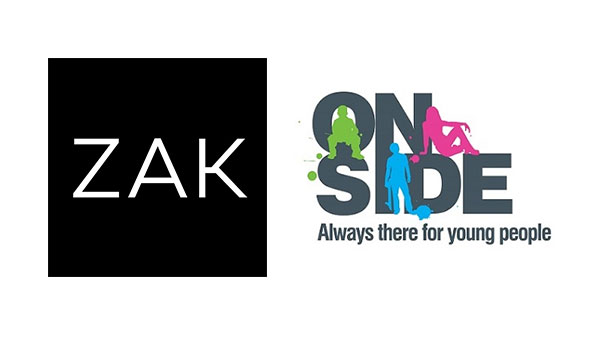 ZAK, the creative agency who connects brands to U30's announced it will be working with OnSide – a charity that builds a network of 21st Century Youth Centres to give young people quality, safe and affordable places to go in their leisure time and to make a difference to their futures.
ZAK will be working with OnSide to develop an OOH campaign to launch three new Youth Zones in London; Barnet, Barking + Dagenham and Croydon. The campaign will launch from March onwards while the building works are still in progress.
OnSide, who pride themselves on giving young people a key voice in their Youth Zones, have worked closely with the ZAK team to give them exposure to the creative industry and process and create some eye-catching designs.
There will be three key messages brought to life; OnSide values and offering, activities and facilities, and the pride in what young people can offer in the local community.
Joanna Davies Co-Founder and CEO of ZAK says: "We are incredibly proud to be working with OnSide, as an agency that connects U30s with brands, it is vitally important for us to be giving back to youth based charities. We love what they do in inspiring future talent, and we hope we have gone some way in inspiring their members too."
Kathryn Morley CEO of OnSide, says: "We can't thank ZAK enough for the amazing work they have done designing our hoardings for the Barking + Dagenham, Croydon and Barnet Youth Zone sites. OnSide's young ambassadors had such a great time at ZAK's offices working on the project and the team there were absolutely brilliant with them. The messaging and designs produced were outstanding and we can't wait to see them launch."
Suriyaa Gnanapandithan, 15, Barking + Dagenham Youth Zone Development Group member, says: "Going to ZAK and working with them was a great experience. It was one of the most welcoming environments I've seen for an office! I believe ZAK has created amazing hoardings for Barking + Dagenham and with the help of ZAK I believe the local community will get a great understanding of Barking + Dagenham Youth Zone."
Hannah McKeating and Zuzana Fernandes, both 16, Barnet Youth Zone Development Group member, says: "We really enjoyed working with ZAK and learning about the process involved in making the hoardings. ZAK took everything into account when designing them and the end result is better than we ever expected."
Source: ZAK