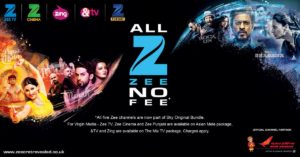 Zee TV has become a staple part of British Asian TV watching habits. It heralded a sea change in consumers being able to engage with the South Asian diaspora, making it the most popular entertainment South Asian entertainment channel with over 100,000 subscribers.
Since its launch in 1995, Zee TV's popularity has grown that now it comprises five separate channels – Zee TV, Zee Cinema, Zee Punjabi, &TV and Zing but until this month, anyone wanting to watch the plethora of original programming and Bollywood blockbusters had to pay an additional subscription of £15 per month to access on Sky. However, Zee TV's new partnership with Sky means that anyone who subscribes to the basic Sky Original bundle will now have access to all Zee TV channels, without an additional monthly fee.
To promote this change virally , Zee has partnered with hilarious YouTube sensation, Pammi Aunty, to help subscribers find ways to spend the £180 saving they're making each year.
Neeraj Dhingra, CEO, Europe from Zee TV comments, "There's been a huge shift in the way people consumer TV and video content since Zee TV launched 22 years ago in the UK and the popularity of global content from non-traditional markets has benefited from the rise of digital video and streaming. In recent months global distribution partners are looking at creating partnerships with Bollywood stars, showing there's a real appetite for global consumers to access content from South Asia. We see a great opportunity for brands to access a much wider audience through partnerships with our channels."
Zee TV is the only South Asian TV network that creates specific content for global audiences and all content is subtitled in English so even those without a South Asian heritage are able to enjoy the latest Bollywood blockbusters, original programming and big entertainment events. . In addition, Zee creates bespoke content for the UK audiences so that British Asians are able to access programming that's relevant to their locality. With a substantial digital and social audience as well as a potential reach of 10million consumers across all five Zee channels, the opportunities to reach a broad base of consumers are unlimited.
Neeraj continues, "We have worked with brands to create original content that's appropriate to their audiences and have seen great successes. Now that Zee TV is open to all UK subscribers of Sky's Originals bundle, we know that the opportunities are even greater to reach people with your brand story."
Simran Sablok, Marketing Head for UK and Europe at Zee Entertainment, comments, " By offering Zee channels as part of the Sky Originals bundle, people won't only get to see the latest Bollywood offerings but explore the rich and varied world of South Asian content. We are sure that this partnership will help raise the profile of South Asia entertainment amongst all consumers."
Source:Â Zee Entertainment