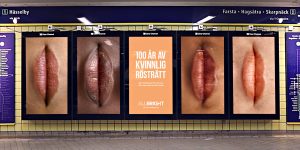 On Friday, May 24th it was 100 years since the parliament took the decision to approve universal voting rights in Sweden. Nevertheless, many still struggle for the right to a voice.
Today the nation have come a bit along the way towards equality, but in the end, men are still in leading positions. That's what the organisation Allbright are saying in a campaign developed by ANR BBDO.
"In this campaign, we have created a symbol for the female voice that represents the importance of having to make their voice heard, and the freedom to use that voice as you want. Because even though women today have had the right to vote for 100 years, many still struggle for the right to a voice," says Hanna Lundberg, Art Director at ANR BBDO.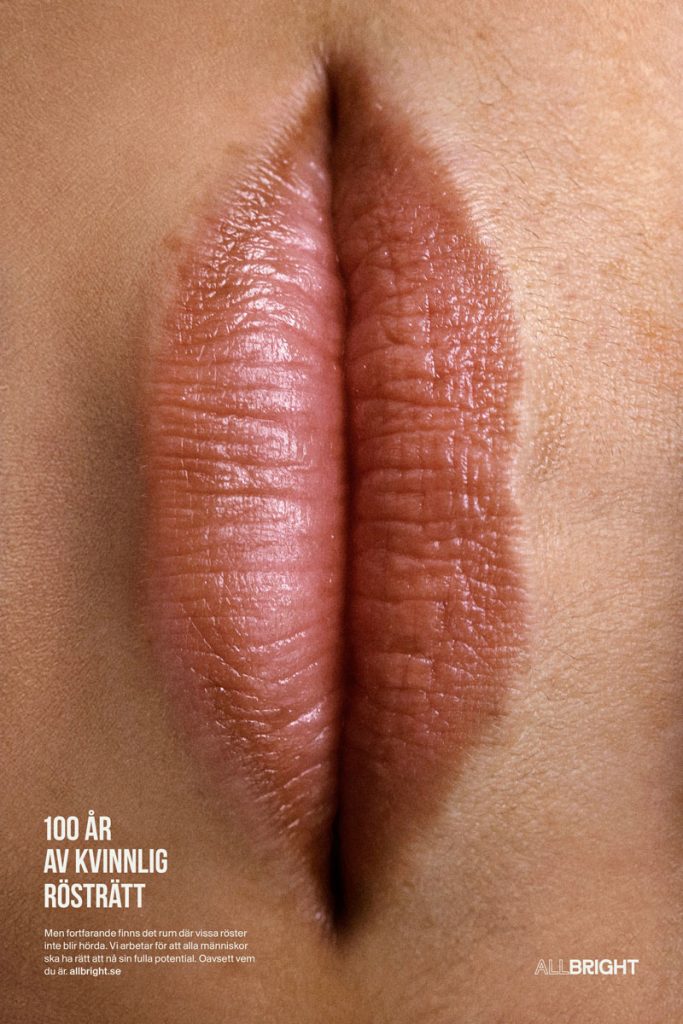 Over the past decade, we have witnessed active opposition to gender equality and women's fundamental rights within the EU. The backlash in the EU is evident in cultural and social phenomena, such as the questioning of the #metoo movement's testimony, the questioning of abortion rights in most countries or increasing hate crimes against women's shelters.
"The EU has not had any common gender equality strategy since it expired in 2015," says Amanda Lundeteg, CEO of Allbright. "We believe there should be a minimum requirement that applies to everyone. Without demands, goals and follow-up work for gender equality tends to fall flat."
Allbright is a politically-independent, non-profit foundation that promotes equality and diversity on the executive business level in Sweden, and they work actively to influence decision-makers in the business sector to work consciously and purposefully to increase the proportion of women in senior positions. Therefore, it felt natural to raise the centenary anniversary of one of the most important decisions in gender equality taken in Sweden.
For example, the proportion of female CEOs has stagnated in Sweden. In 2014, Sweden was in the EU top with 23% female CEOs, but the past five years, the trend has been steady. Country after country is running by Sweden in the rankings and Sweden is now in sixth place.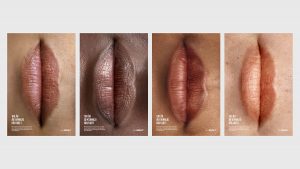 "We must not lose ourselves in the image of ourselves as the world's most equal country," says Amanda. "Gender equality is not a law of nature, it is not achieved by itself. Even today, three out of four CEOs are men. In the Swedish business sector, nine out of 10 CEOs are men. Far from being equal, if you ask us."
"Proper change is not something that comes of itself," says Daniel Yousefi, copywriter at ANR BBDO. "It only comes when you speak for it. With the voice follows the opportunity to influence, whether it is at work, at school or at home – or in the EU election."
Source: ANR BBDO