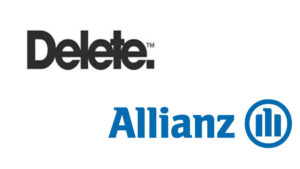 Following a competitive pitch, Allianz UK has appointed digital agency Delete.
Delete will act as Allianz' digital consultancy, advising on how their digital channels can be better optimised to support brokers,  drive engagement and increase sales across their product portfolio.
Delete's strategic programme will focus on understanding Allianz's business needs and customer behaviour, using the insights to redefine the role their digital channels will play in their sales process.
Damon Mangos, Head of Strategy & ECD at Delete commented: "We are excited about this opportunity to work with such a prestigious brand. Our goal is to help the Allianz UK Team take a fresh look at their digital universe and look to drive positive change through these touch-points – to better serve their customers and power their business for the future."
James Bowen, Digital & Social Marketing Manager at Allianz UK added: "We're excited to be working with Delete on this project and looking forward to enhancing the digital offering we provide to customers."
Source: Delete