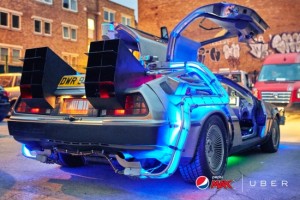 Great Scott! For one day only, Pepsi Max has partnered with Uber to give London-based 'Future Day' fans the ride of their lives in a DeLorean– to celebrate the 30th anniversary of cult hit Back To The Future II.
In Back To The Future II, Marty McFly travels to the future – October 21st 2015 to be precise – and orders a Pepsi Perfect from Café '80s. To commemorate the iconic scene on Wednesday 21st October, a select number of DeLoreans will be on hand from 10.00am to 3.00pm to offer free rides to Londoners  – with Pepsi Max on hand for the journey (time travel not included).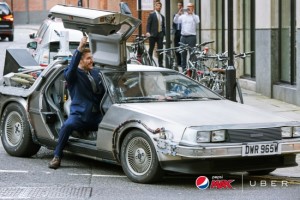 Consumers simply have to enter the promo code "PEPSIMAX" into the Uber app to unlock the DeLorean icon, giving them the chance to ride in the iconic 'time machine'. The promotion was carried out by AMV BBDO.
Alex Nicholas, Senior Brand Manager at Pepsi Max says: "The 'Pepsi Perfect' scene in Back To The Future II is an iconic moment in the film, and we wanted to give back to fans on Future Day. Giving consumers the chance to ride in a DeLorean via Uber's promo code."
Sarah Brightwell, Senior Marketing Manager at Uber says: "We may not be able to travel through time but at Uber, we're all about looking to the future. We're thrilled to be marking Future Day with Pepsi Max by bringing fans an iconic ride at the touch of a button;  a nod to a cult 80's film using today's brands and tomorrow's technology."