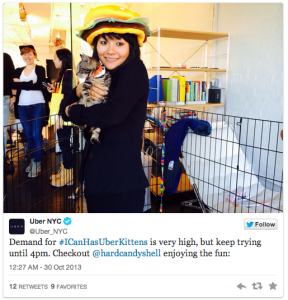 As October 29 was National Cat Day, transportation company Uber collaborated with the website "I Can Has Cheezburger" to deliver kittens to your doorstep.
Those who reside in New York, San Francisco and Seattle were able to get access to these adorable cats by selecting the "Kittens" option on the Uber app from 11am to 4pm.
If the customer is lucky enough to get some alone time with a kitten, an animal shelter volunteer will bring it, along with some Uber products and a cake from the Charm City Bakery.
Customers are also able to track their special delivery, and the experience costs US$20, with all proceeds going to the local animal shelter.
We hope that these kittens were not too traumatized while being ferried back and forth, but this fun idea is just the thing to brighten up someone's day.
Check out some photographs of the lucky Uber customers having fun with the kittens below.