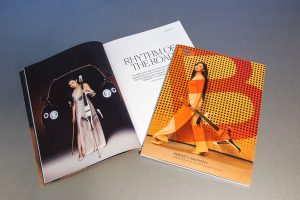 Archant Dialogue is proud to announce the relaunch of the Bentley Magazine for Bentley Motors.
The quarterly publication has a fresh new design that celebrates the Bentley marque and inspires customers with luxury lifestyle features.
The relaunch cover celebrates world-renowned cellist Tina Guo, who recently composed, produced and performed music exclusively for Bentley's Bentayga Hybrid. Inside, Tina talks about her inspiration for the music and her life as one of the world's most sought-after classical performers.
Other features include former Tour de France cyclist Adrian Timmis' return to Mont Ventoux 30 years after he tackled the mountain's gruelling ride, but this time he's driving a Bentley; an interview with kinetic sculptor Ralfonso; the art of advertising as 'Wall Dog' painters design giant murals for luxury brands across the globe; contemporary artist Yayoi Kusama; insight into the world of customised denim; and Bentley's expert team of veneer hunters as they search for the perfect tree in the Mississippi wetlands.
Dialogue was appointed by Bentley in January 2018 after a successful competitive pitch to produce the magazine and associated content assets.
The contract includes management of all aspects of Bentley Magazine's production, including concept ideation, story generation, commissioning, copy editing, competitions, design and photography, and working with Bentley's in-house editorial team. In addition, associated digital assets, including video, are created for use on the Bentley website and social media channels.
Dialogue also introduced a new advertising model for Bentley Magazine which offers sector exclusivity to brands, allowing them to reach Bentley's distinctive and affluent audience and be part of this new era for the publication.
According to Craig Nayman, Dialogue's Executive Director: "In our initial pitch to Bentley we were asked to push the boundaries of the magazine, to really inspire the Bentley community and to produce something that reflects their philosophy of 'being extraordinary'. I'm delighted that this re-launch delivers against this brief. Importantly, it was also engineered to deliver an attractive package for advertisers, which was immediately recognised and allowed us to bring some extremely high quality partners on board."
Dialogue's Agency Director, Zoe Francis-Cox, added: "The synergy between Bentley Motors and Dialogue has been outstanding. Our goal was to break the mould of automotive titles and create an extraordinary magazine for an extraordinary brand – and our teams have exceeded this, delivering incredible quality for discerning customers and prospects. I'm looking forward to developing the relationship with Bentley Motors even further."
Source: Archant Dialogue