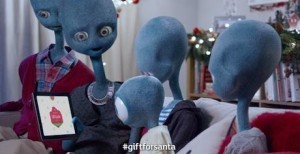 Argos is partnering with ITV and Twitter to ask the public to pick a gift for Santa as part of a combined TV and social media Christmas marketing campaign.
Created by CHI&Partners, Mindshare and The Social Practice, Argos is launching a series of ads tailored to ITV programmes asking viewers to suggest ads. In each series, the first ad will ask viewers to submit their gift suggestions while the second will remind them to take part.
The final ad break will see the most creative ad suggestions read out live on air by the Argos aliens, with the winner getting a different prize depending on the programme.
Argos will use the hashtag #giftforsanta to sort the suggestions, with all entries shared via the firm's @ArgosAliens Twitter account. The campaign will launch on  November 13 and feature on "The Only Way Is Essex", "Celebrity Juice", "The X Factor" and "I'm a Celebrity…Get Me Out Of Here".
Carl Nield, head of brand marketing at Argos, says: "This marks yet another big and exciting move for our brand as we continue to experiment digitally and further our reach online.
"Moreover this is a totally fresh way for people to get into the seasonal spirit and enjoy some of the nation's favourite programmes in partnership with the brands they love."
The marketing push will be seen as the latest move by Argos as it positions itself as a "digital retail leader". It recently launched its first digital Christmas gift guide that allows customers to search for gifts and create lists for friends and family on Facebook, as well as order online.