Betway, together with Saatchi & Saatchi, have launched a new integrated campaign across Europe, featuring 'The Hunch,' their first since the account was won in August 2018.
The new campaign brings the notion of 'having a hunch' to life. A hunch is a universal feeling we all know. It's the feeling that makes being a sports fan exciting, and it's what makes you stick to your guns when debating a sporting outcome with friends.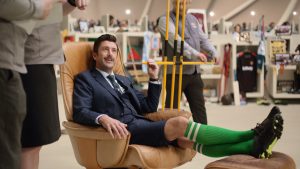 The new Betway adverts personify 'The Hunch' into an all new brand character, and give sports fans an extra reason to trust their convictions, and bet with confidence. He is a charming, larger than life figure who charismatically occupies a part of every betting punter's brain.
The adverts begin with groups of friends talking amongst each other, debating which way to bet on the Betway app, whether on top scorers in a game, or a match's outcome. At the moment of decision, the scene switches into the hero's brain, and into the office of The Hunch where their deliberations are dramatised.
His office is decked in sporting memorabilia and is populated by teams of brain cells, all helping The Hunch to weigh up which information to trust, and eventually formulate the opinion we follow. When The Hunch reaches his conclusion, we rejoin the scene of camaraderie in real life, and hear the lead character make an assured decision, off the back of their hunch.
The new campaign will roll out across TV with three 30" ads, and will be supported across social, display, radio and print.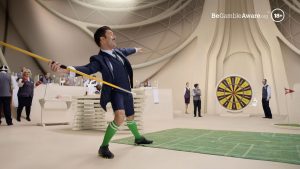 Franki Goodwin, Creative Director at Saatchi & Saatchi London, said, "It's always a really exciting opportunity, making the first piece of work for a new client, especially inventing a brand new bespoke character. We've loved creating The Hunch and getting to know every detail about him. This is just the beginning of an exciting new platform to become part of the sporting conversation."
Paul Adkins, Marketing and Operations Director at Betway said, "Since we partnered with Saatchi & Saatchi earlier this year, our brief to them was to break away from industry norms, and to build us a creative platform which will enable Betway to fulfil its ambitious global growth program. As part of this journey we found that sports is a social currency, a driver of conversation and debate, and behind it all we discovered the universal human truth behind our gut instinct – "The Hunch". We're very excited to be launching our "Hunch" campaign which we believe will help Betway cut through a very cluttered advertising landscape."
Source: Saatchi & Saatchi