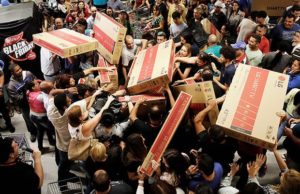 Brands are warned they need to think omnichannel if they want to remain on customers' shopping lists in the future, says packaging solutions company Sun Branding Solutions.
While online has been part of our lives for 22 years and in the UK online spend now accounts for 15% of overall retail turnover, around £1billion a year, just behind China, with year on year growth to April  up 19%, bricks and mortar sales still account for 95% of all retail experiences worldwide.
Sun Branding Solutions has produced a whitepaper "Everything will come in plain white boxes" which draws on the insight of futurologists, academics, tech specialists and packaging design experts to drill down into some of the burning questions surrounding online shopping.
FMCG brands need to consider how they retain the loyalty of their consumers. There is no one size fits all. Packaging and design that works for bricks and mortar stores and stands out on a supermarket shelf because of colour, logo and shape does not necessarily have the same impact when seen as a postage size thumbnail on the  screen of a smart phone – and by 2020 80% of us will use smart phones.
There is no quick fix for brands and retailers wanting to get ahead of the pack in this fast moving, tech-forward world. It's a complete mix of channel, communication and opportunity coupled with an understanding that digital and physical no longer exist as separate entities; omnichannel means looking at your brand holistically and blurring the boundaries of virtual and real.
Whatever developments are accepted by shoppers, brands have to respond. They need to communicate clearly with colour, shape and hierarchy of message. Thinking online has to come first when it comes to packaging form and function while omnichannel is all important, it's not just about online, says the whitepaper.
Source: Sun Branding Solutions