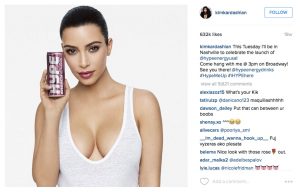 A new report by influencer marketing platform, ZINE, calculates that brands are squandering $2.02 billion annually by paying top flight celebrities to promote their products with limited results.
Influencer marketing is currently valued at $5billion globally with 54 per cent being spent on A-list celebrities. However, the new study found that only 25 per cent of consumers would consider buying a product that had been recommended by a celebrity with over a million followers, whilst half would be likely or very likely to buy something if it was promoted by someone with a smaller following who was perceived as being a specialist in that area.
Unsurprisingly Baby Boomers are the most sceptical with only 0.3 per cent saying that celebrities would have any positive influence over their purchasing decisions. Millennials were found to be the most swayed by the power of celebrity being 15 per cent higher than average to buy something recommended by a famous personality, whilst Generation Z were seven per cent more likely than average. Transparency is important to these demographics, with both age groups responding more favourably to posts that they can see have been sponsored.
The research also revealed a negative correlation between reach and engagement. As number of followers grow, the level of engagement drops. Influencers with a reach of over a million have an average engagement rate of 1.9 per cent, whilst influencers with a reach of between 1,000 and 10,000 were found to engender over double the engagement, with a rate of 4.4 per cent.
"Influencer marketing is still in its infancy with many campaigns taking a tactical, rather than strategic approach, therefore all too often brands are seduced by reach. On the surface of it netting a top tier influencer like Kim Kardashian, Kevin Hart or Beyonce might feel like a triumph, but the reality can often be very different," comments Caroline Duong, CEO, ZINE.
"Our research shows that consumers crave authenticity and emotional connection, traits rarely associated with 'remote' celebrities. Instead, sourcing influencers with smaller, but more engaged audiences, can often be far more effective. Selecting the right influencers is crucial and it is important to remember that volume can be vanity – not to mention a monumental waste of precious marketing budget."
Source: ZINE