[KGVID width="600″ height="338″]https://marcommnews.com/wp-content/uploads/2016/01/ARMY_garage_40_wip_20160128.mov[/KGVID]
In a bold move to recruit more soldiers, challenge stereotypes, and broaden its appeal to young people, the British Army has launched a new campaign to attract Generation Z by showing them how they can grow and become better versions of themselves with an Army career.
The sociological make-up of Generation Z, captured in a new survey commissioned by the Army of 2,000 16-24 year olds, suggests they are altruistic, driven, open-minded and long to stand on their own two feet. The Army is seeking to grab their attention by telling them: 'Don't join the Army, don't become a better you'.
Born into a world where social unrest, economic difficulties, and terrorism are reaching wider across the globe, Generation Z fear they face a more uncertain future than their parents and as such will have to work harder in life to achieve their goals (90 per cent). Despite this uncertainty they are optimistic and ambitious, with nearly half (49 per cent) wanting to become better versions of themselves and three in four (73 per cent) feeling confident they will meet their full potential and succeed in life.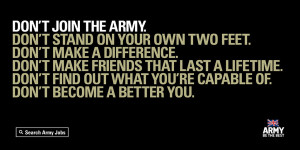 They take their inspiration from female figures such as Malala Yousafzai and Michelle Obama (33 per cent), compared with just one in 10 of today's young people who say they are inspired and motivated by the country's political leaders.
The Army has been recruiting against a competitive jobs market and record low unemployment rates, and is now hoping to broaden consideration of the force as a career to a wider group of 16-24 year olds, by hooking into Generation Z's emotional drive and aspirational desire to grow and do something that matters in their lives.
General Chris Tickell, General Officer Commanding, Army Recruiting and Training Division, said:
"The Army should be one of the top career choices for 16-24 year olds wanting to better themselves, make their family proud, and do something that matters. Too many people in this age bracket may have no idea that the Army is recruiting and those that do may not consider it as a career because of false stereotypes and misperceptions: from thinking there are no roles other than infantry and combat, to believing the Army is not for people like them.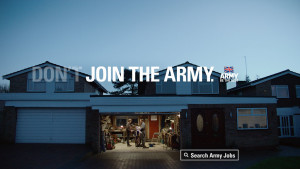 "We want young people to understand the Army is much more than just combat. Currently UK armed forces are deployed in more than 80 countries across the world, conducting a range of activity and the Army has done some really positive work assisting with humanitarian efforts, such as in Sierra Leone combating the Ebola crisis, and UN peacekeeping missions in Cyprus.
"That's why we have deliberately designed a bold, new recruitment campaign that uses reverse psychology and a thought-provoking approach. It will encourage young people and those who influence them to notice the Army, and start having open conversations with real soldiers and their friends and relatives. They can discuss any reservations they may have about joining head on and take the opportunity to consider how much the Army has to offer them and whether it is the right career for them."
The survey went on to reveal that three quarters of young people think the Army is a necessary and positive part of British society. However, when questioned about the 200 different job roles on offer in the Army, the majority did not realise these roles were available. The majority are not aware of the significant job opportunities in the Army with roles such as painters, musicians, lawyers, carpenters, chaplins, teachers, HR specialists, personal trainers, vets, metalsmiths or dog handlers.
With increased investment in defensive and offensive cyber capabilities confirmed by the Government, the Army offers young people the opportunity pursue specialist technical roles, from apprenticeships in aeronautical engineering to becoming a geo-technician, the Army's experts in mapping and risk.
[KGVID width="600″ height="338″]https://marcommnews.com/wp-content/uploads/2016/01/ARMY_walk_40_wip_20160128.mov[/KGVID]
The Army's new recruitment campaign – A Better You – focuses heavily on existing soldiers' real experiences and journeys of personal growth in the Army, which have been captured in a new survey among serving soldiers. Soldiers said:
The Army has helped them to: learn new skills (70 per cent), become more confident (65 per cent), gain new qualifications (59 per cent), be independent (55 per cent) and become better at communicating with people (55 per cent).
Soldiers' top three reasons for joining were to travel the world (69 per cent), to have an exciting job (53 per cent), to learn new skills (51 per cent) and to serve their country (50 per cent.)
Half of soldiers said their parents initially were not supportive of their decision to join, while one in four said their friends didn't want them to join. Yet, since joining, the majority said these opinions had been changed.
When asked why Generation Z should join the Army, soldiers listed the following main reasons: job security (55 per cent), to make something of your lives (49 per cent), for a chance to be a better you (41 per cent) for the pride of serving your country (39 per cent).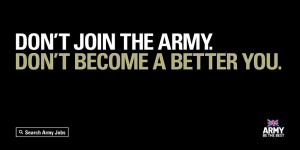 Real soldiers will be hosting engagement events in cities across the UK during January and February to meet with members of the public and share their own stories of personal growth in the Army.
One such soldier, Gunner Tennessee Ross, is a 23-year-old former hairdresser from Ashford in Kent.
Now serving with A Battery (the Chestnut Troop), Royal Horse Artillery, Gunner Ross said: "I had nothing going for me before I joined – no self-confidence and no pride, and I didn't know what I was doing.
"Getting through basic training was the biggest achievement of my life, and now I'm always trying to be a better me. I never thought I'd manage people, or make my parents proud of me, or even overcome my fear of heights, but the Army has helped me do all that.
"A lot of my friends said I shouldn't join. All I tell them now is: I told you so."
The first phase of the 'A Better You' campaign by Karmarama launches January 18. It is digitally led and will be supported by radio and out of home advertising, with the aim of reaching the Army's core recruitment audience of 16 to 24 year olds. It will be supported by a new nationwide TV advert later this month, which is intended to also appeal to 16-24 year olds, and their influencers, particularly parents.
All advertising will drive people to a new campaign hub on the Army jobs website and will run until the end of February. Further bursts of the campaign are planned for later in 2016.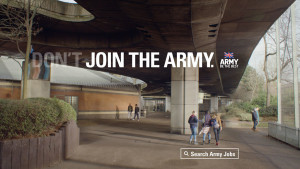 For more information about a career as an Army Soldier search Army Jobs.
Did you know, as an Army Soldier:
You will be trained as an apprentice with a choice of 40 different schemes, from engineering to animal care.
You are offered over 500 different qualifications, from GCSE to degrees, including all kinds of professional and practical qualifications in areas such as chartered engineering and accountancy that will build up your CV
You will start on an annual salary of £18,125 after training, plus pension. In comparison, the UK's national average apprentice earns £6,846 and may not have job security at the end of their apprentice.
You will be offered a clear career structure with annual pay rises and a clear promotion path
You receive six weeks paid leave, plus bank holidays
You have access to free gym, sports facilities and the chance to train with the very best coaches. You could play in overseas tournaments or on international stages like Twickenham.
You have opportunities to travel overseas for operations, sport and peacekeeping, from training in Kenya to supporting the UN in Cyprus.
You can take up adventurous training from mountaineering in the Himalayas, to sky-diving in Florida