China is on course to overtake the USA as the world's leading source of foreign trademark applications by 2020 according to new research released by CompuMark, the industry leader in trademark research and protection solutions. Trademark-filing trends are a powerful indicator of economic activity. In the past two years alone, the number of Chinese trademark applications to foreign registers has doubled, with Chinese applicants filing nearly 120,000 foreign trademark applications in 2017.
The report Chinese Brands Go Global was compiled by CompuMark's Custom and Managed Solutions Team using SAEGIS, the world's largest trademark database, analysing 62.6 million active trademarks across 186 trademark registers in over 200 countries. It assessed domestic and foreign trademark applications by Chinese brands, made between 2014 and 2017.
The number of US trademark applications made by Chinese brands has increased by 800% since 2014. Of the 120,000 foreign trademark applications made by Chinese brands in 2017, more than 50,000 applications were filed in the USA. This equates to around 10% of all applications made to the US trademark registers in one year, indicating that the USA is now the major market for Chinese brands and marking a shift in focus away from the traditional target markets of mainland China's close neighbours in Southeast Asia.
Trademark applications contain information about markets (registry country), time (filing date), source (applicant country) and business activity (classes and specifications). The report goes on to reveal where in the world Chinese trademark applicants are filing, where in China applicants are from, and which Chinese industries are fueling the growth in global trademarks.
Domestically, the Chinese trademark register also continues to grow at a phenomenal rate. With more than 1.4 billion consumers, the Chinese market is seen as a key target for international brands so global brands flock to register trademarks there. As a result, China's domestic trademark register is the largest in the world, accepting more than five million new trademark applications in 2017.
Globally, 60% of trademark applications in 2017 were on the China register. More applications were submitted in a week in September 2017 than were submitted to the European Union register in all of 2016. And the proportion of global trademark applications filed in China is still growing.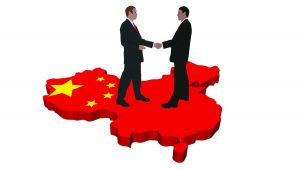 Jeff Roy, President of CompuMark explained, "Trends in trademark applications can serve as powerful indicators of economic activity. China is a great example of this. By filing volume, our report shows that in just 4 years Chinese brands have jumped from number 10 in the world to number two. These applications tell a story that may reveal or even serve to forecast the trajectory of regional or global commerce. If current trends continue, Chinese brands are likely to challenge US brands for global supremacy in the near future."
Rob Davey, Senior Director, Managed Solutions & Global Markets at CompuMark, said: "China, with its allure as the world's largest single market and a population with growing purchasing power, has featured prominently on the radar of global brand owners. But our exclusive analysis by CompuMark's data-analytics experts shows that Chinese trademark applicants are having a significant impact on the world's trademark registers. Trademark registers outside of China—especially those in the US and Europe—are seeing Chinese applicants playing a far greater role in their markets."
Download the China Brands Go Global report here or pick up a copy at CompuMark's booth (101) at the Annual Meeting of the International Trademark Association, Washington State Convention Centre, Seattle from May 19 to 23, 2018.
Source: CompuMark