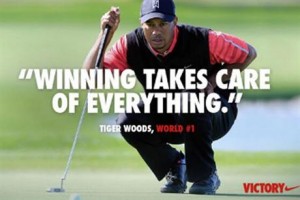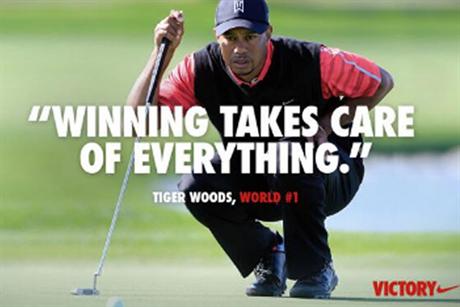 Nike's new ad celebrating Tiger Woods' return to the top of the world's golf rankings has been criticised for glossing over the athlete's public fall from grace by using the slogan, "Winning takes care of everything".
Woods returned to the golfing top spot on Monday 25 March after winning the Arnold Palmer Invitational tournament. To coincide with the victory, Nike released an image – created in-house – that featured Woods lining up a putt together with the slogan, "Winning takes care of everything".
The slogan is a quote that Woods has often used, as far back as 2009 according to some reports, when talking about his game and competitors.
But many have interpreted the line as a riposte to the battering Woods' image took in 2009 and 2010, when the press reported that the golfer had been having extra-marital affairs.
The events led to Woods' divorce from his wife in 2010 and the loss of several sponsorship deals. In November 2011, Woods slumped to number 58 in the golf world rankings.
Critics took to Facebook to condemn Nike for the new ad. Comments on the brand's pages on the social networking site included, "Congrats [sic] to Tiger. Nike, not so much. Really? Idiot ad people" and "Nike says: Winning is everything but integrity counts for nothing."
Others on Facebook defended the ad, however, and the image itself received 2,245 'likes'.
A spokesman for Nike said: "Tiger has always said he competes to win. When asked about his goals such as getting back to number one, he has said consistently winning is the way to get there.
"The statement references that sentiment and is a salute to his athletic performance."
Nike's usual creative agency Wieden & Kennedy created a video in the aftermath of Woods' cheating scandal, featuring the golfer's late father speaking to him (using an earlier recording) and asking him what he was thinking and what he had learned.