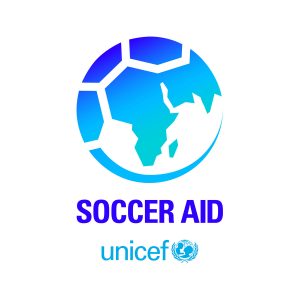 Conran Design Group has collaborated with UNICEF to create the new Soccer Aid brand identity.
Conran was tasked with updating Soccer Aid's brand identity, to make it feel modern and engaging, and to create an identity that inspires action and reflects the excitement and passion of football. The marque, which is being used across digital, TV and print, needed to resonate with a non-football audience too, to support UNICEF's mission to make sure every child around the world leads a happy, healthy life.
The new identity's DNA is rooted in the game. Inspired by the iconic hexagon football pattern, the device is a key feature. It is a flexible tool that can be used in a variety of ways; to anchor key messaging or as a holding device for copy and imagery. Conran Design Group further leveraged the marque to build a recognisable and versatile visual brand language for use across all communication platforms.
UNICEF's ambition is to extend the charity event from a one-off UK football match (every two years), to a season of mass-participation and engagement which appeals to a broader global audience.
Thom Newton, CEO & Managing Partner at Conran Design said, "this was a great opportunity to work with a key organisation that makes a profound difference to the lives of vulnerable people in deprived areas. We celebrated the true spirit of Soccer Aid through this new brand identity – one that symbolises the joy and emotion of being part of something special."
Source: Conran Design Group