Humanity & Inclusion (formerly Handicap International) and agency Cossette Montreal releases a new commercial 'Lifeline' that tells real-life stories of trauma and resilience of vulnerable populations facing conflict, disaster, poverty and exclusion. Filmed in refugee camps along the Thai-Burmese border, the launch campaign, directed by Olivier Staub and produced by Morrison, combines both live action and animation.
Narrated by Feist, the film begins with close ups of people's hands, which form an abstract landscape on which the animation delicately treads out true stories. Shots of the people behind the stories emerge – from young to old, their faces tell of both struggle and strength.
Director Olivier Staub, who is represented in Canada by Morrison and in the US, UK and Asia by Great Guns, comments: "I hope that this film has the emotional power to transmit what people really suffer when they are in the situations that we show in our film. Trauma can take on so many faces, and it is very easy to forget about it all when it happens thousands of miles away. The incredible thing with this concept is that portraying such drama with doodles in the hands of real people opens a channel straight to the viewer's emotions, with great authenticity and simplicity. It is not just another generic war scene, another refugee camp, that could have been shot in Namibia or Hollywood."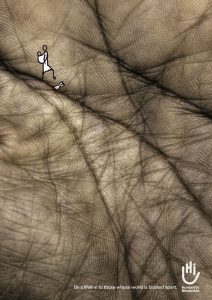 Wanting to portray authentic life stories, Olivier travelled to refugee camps on the Thai/Burmese border. Olivier adds: "We experienced their daily reality. Although their living conditions are very fragile, I discovered a completely new world. I saw hope, smiles and love. My biggest revelation was this little boy named Siti Pong, the boy in the finale of the film. This little boy is missing a leg, three fingers, and still has an impressive appetite for life as well as a contagious smile. Seeing him play soccer with the other kids was the proof, for me, that hope never dies."
The new identity for Humanity & Inclusion will be unveiled in a global campaign deployed across several platforms and in eight countries. 30, 45 and 60 sec videos will appear on TV, online and in cinemas. The campaign also includes OOH, as well as print, online and social media ads.
Source: Great Guns