The Marie Keating Foundation teams up with DDFH&B to launch the first ever coughing billboard.
Designed to raise awareness of about the dangers of lung cancer, the specially-built outdoor piece includes an audio instalment that immediately grabs the attention of passers-by with a coughing sound. The billboard displays a seemingly innocent statement, but when you look closely at the typography, the letters reveal a serious message: 'I had cancer'.
The outdoor billboard is part of wider campaign, 'Listen to Your Lungs', which coincides with Lung Cancer Awareness month this November. The campaign aims to encourage people to take notice of persistent chesty coughs and get them checked by their GP, as this could be a warning sign of the disease.
The Creative team on this project, Dean Ryan and Adam McKiernan from DDFH&B, comment: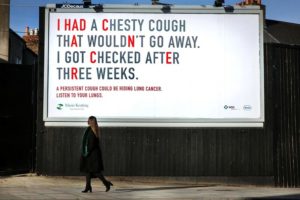 Dean: "Lung cancer is the biggest killer out of all the types of cancer. To get people to understand its dangers, we knew we had to be bold and clear in our message. Our main creative challenge was the tight turn around: we had just two and a half weeks to pull this off, so we had to act quickly. I'm happy with the end result and how it's all come together. The Marie Keating Foundation were a dream to work with – their trust in our creative approach was key to the success of this project."
Adam: "We were working with a modest budget, which really pushed us to think outside of the box. The client was clear from the beginning that they didn't want another anti-smoking advert, so we took a fresh approach and focussed on how a seemingly normal cough could be hiding something more serious. This is my first creative campaign, so I'm thrilled to have had the opportunity to create something very unique. I think this is our strongest work we've created for The Marie Keating Foundation to date, and I look forward to what we achieve together in future."
The Marie Keating Foundation's Liz Yeates comments: "DDFH&B have been a fantastic partner in the Marie Keating Foundation's 'Listen To Your Lungs' Lung Cancer awareness campaign (kindly supported by MSD and Roche Products (Ireland) Limited). We found them to be very honest giving advice and their expert opinion throughout the creative process. DDFH&B not only helped us define and optimise our core campaign objectives, but also were excellent in responding to tactical challenges and new opportunities. DDFH&B continues to deliver above industry standard results for the Marie Keating Foundation. We can't recommend them highly enough."
In addition to the outdoor billboard, DDFH&B launches the campaign on radio, online, and socials. Across each platform, the mention of cancer is deliberately obscured to hammer home the message that the disease could be hiding behind a cough.
'Listen to Your Lungs' is now live and runs until the end of the month.
Source: DDFH&B