The cold months of winter bring us much entertainment; the antics of Halloween, the joys of Christmas and the resolutions of the new year create a cosy consciousness, leaving us feeling all warm inside.
However, a bothersome cold or persistent flu is inevitably enough to switch our festive spirit for one of disgruntlement, where our only desire lies in the comfort and warmth of our own bed.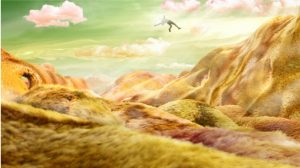 Needless to say, we can all relate to the Havas' new ad for Lemsip as the suffering fairground cashier tries to pull herself through her shift. Opening upon the hectic hustle and bustle of a winter fairground scene, 'Comfort World' focuses on our red-nosed, pale-skinned central character as she sits inside her ticket booth, somewhat under the weather.
Out of nowhere, her very own golden ticket to good health appears, pushing a steaming mug of Lemsip towards her. She takes a sip and is instantly propelled into a fantastical world of comfort, swallowed into beautiful textures, a feast of softness for the senses, the complete foil to the fast-paced nature of the fairground.
We witness the soothing effect of Lemsip in the expansive environment amidst the warmth of golden hour and the comfort of the soft, furry textures, before our character returns to reality with a small smile of relief, feeling rejuvenated. The ad was produced by Unit9 and the post production was handled by Big Buoy and Smoke & Mirrors.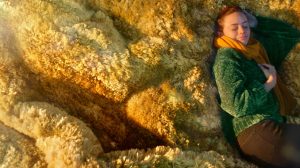 "From the first read of the script we knew this was going to be a cool project," explains VFX Artist, David 'Skippy' Clifton. "The challenge lay in running two projects simultaneously…the character animation and the CG world of fur."
Willie Torres, Character Animator, expresses the team's excitement on working with the Lemsip character for a second time, "Because the character design remains the same, this time around we got to focus solely on his acting and animation. Comfort World has an amazing dreamlike CG environment that required lots of simulations of fuzzy elements that match the live action sets."  
Due to the size of the environment, a unique approach was needed, explains CG Supervisor, Kristaan Cain: "In order to manage the data effectively and allow for consistency, the comfort world was signed off in stages. The task was integrating the live action footage into an entirely CG fur world built inside Houdini. For the patterns seen in the hills, we used textures created in Substance to create a unique look, before adding movement to all the curves in the scene. A mix of procedural and simulated methods was needed to obtain the desired result."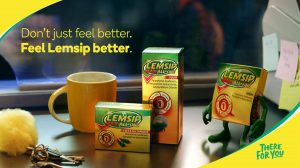 In agreement with Kristaan that consistency is at the heart of a successful ad, Big Kahuna Sound Designer, Nick Olsouzidis, adds, "We put a lot of work into striking a good balance between the two worlds. Firstly, we designed the exterior soundscape at the fairground and then we worked on the transition into the comfort world. In addition to the TV mix I had the pleasure of mixing the 5.1 cinema version, the more speakers, the more fun I have!"
"This was a fantastic project to work on with Havas and the Unit 9 team", concludes Jenna Le Noury, Executive Producer at Big Buoy. "The creative development and the various stages of look development that this world underwent was a wonder to witness. It was so exciting to see all of the different styles of groom, texture, colour and animation that the CG team were imagining.  And of course, the return of Lemmy was also very welcome – karate chop and all!"
Source: Big Buoy