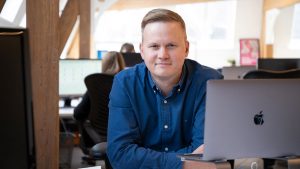 Absurd, the Manchester-headquartered agency, has further strengthened its management team with the appointment of Mark Carrington as Program Director. Mark will lead the agency's operations across its global client base.
The appointment follows a string of client wins and several new hires since its launch in May last year. The agency has seen rapid growth, recently moving to Princess Street to allow space for the further expansion of its team. It counts Brother, Miami Cocktail and Walo International among its clients.
Mark, who joins Absurd from Epam Systems, where he was Director of Project Management, brings with him extensive experience gained in previous roles with Ebay, TMW, iris Worldwide and Great Fridays.
Oli Taylor, co-founder of Absurd, said: "With our global client base continuing to grow, Mark brings valuable experience and expertise that will further strengthen our management team as we expand – Mark's appointment represents our continued focus on finding the very best talent available in the industry; a core commitment to our clients."
Mark said: "Absurd has seen impressive growth to date and I look forward to working with Oli, Sam and Oliver to continue that trajectory. The agency has made a number of top-flight new hires since launching and I look forward to joining what is an incredibly talented team at such an exciting time for the business."
With an advisory board spanning the UK and US and which includes former Great Fridays CEO, Rob Noble, the team is working to ambitious growth projections over the coming 12-18 months.
Source: Absurd