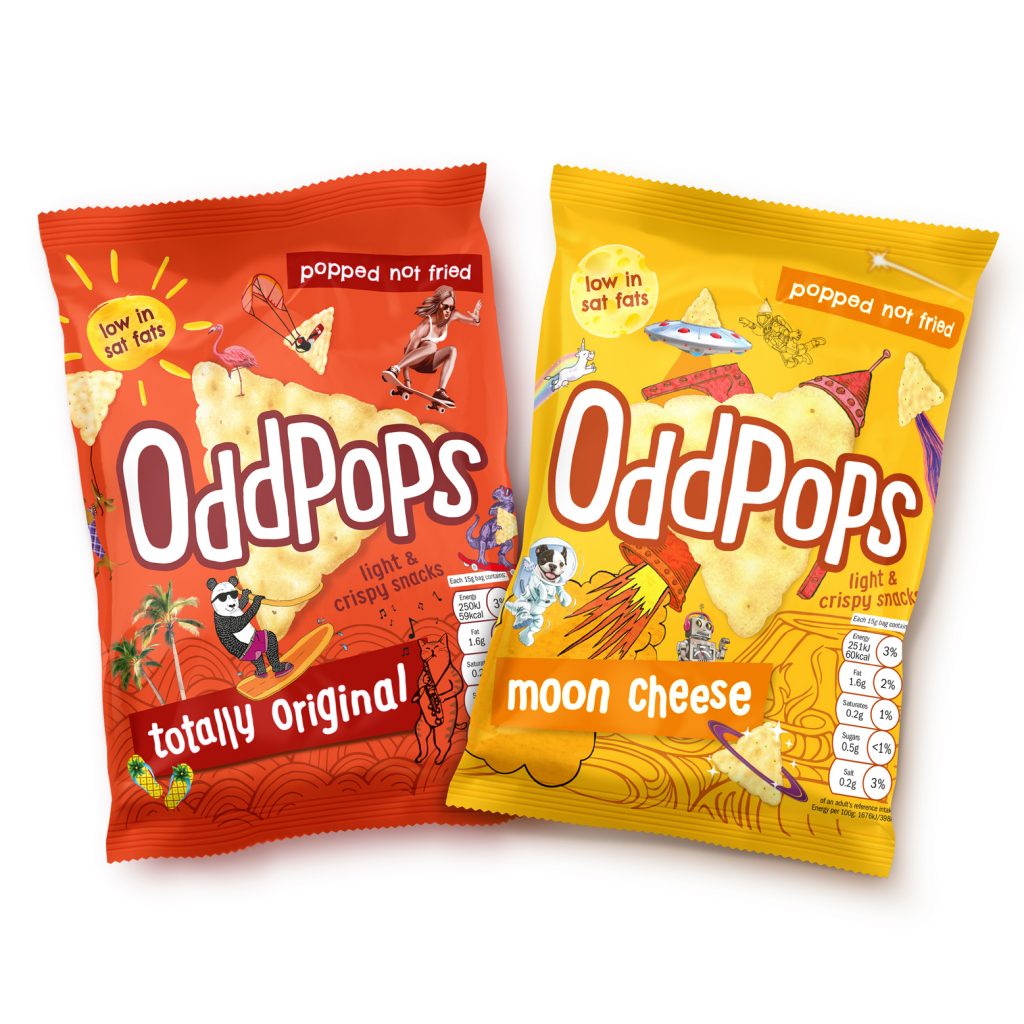 Having revolutionised the baby-food market with its best-in-category products, engaging tone of voice and innovative pouch format, the team behind Ella's Kitchen is launching a savoury snack brand aimed at 4-7 year olds.
Positioned as a healthier, tastier and better snack, the triangular wheat and potato pieces are popped not fried and contain only natural flavours, with no artificial colours.
Healthy snacking
"Over the years, we have seen the great efforts the people at Ella's Kitchen take to develop their recipes, ensuring they are made with healthier, simple and honest ingredients. This is the first time the business has launched a new brand, and we were very keen to do it justice – to create something really exciting," says Anneliese Hendry, Client Service Director at Biles Hendry.
Kids' savoury snacking is a busy, noisy and colourful category with a lot of well-known brands, so creating cut-through and standout was key. But, importantly, it needed to be done in an engaging way for kids, using a creative platform on which OddPops can build a brand – all while remaining true to the values of Ella's Kitchen Brands Ltd.
The branding idea was borne out of the fact that these odd little triangular snacks are popped not fried, which led Biles Hendry to the name OddPops. The brand mark is simply the word OddPops in hand-drawn letters, which sit slightly unevenly, or 'oddly', off the baseline. On pack, this marries up with a large image of the snack to quickly and iconically communicate the nature of the product.
Child's play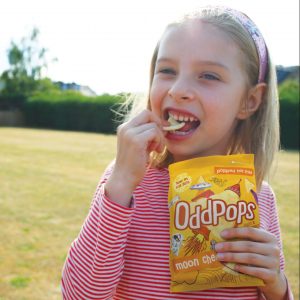 Youngsters have active imaginations and OddPops taps in to this to add character, whimsy and appeal. The packs include eclectic imagery that varies as much in style as in narrative: 1950s retro meets black ink line drawing, meets photography, meets indie 'off-the-wall' cartoon. We see a surfing panda (well, why not?), a skating dinosaur (what, you've never seen one?) and a dog in a space suit (obviously!). The packs and the brand invite children to 'imagine the poppabilities'.
Anthony Biles, Creative Director, says, "It's no coincidence that the designs have a dynamic 'pop' art visual approach – what better for popped snacks?! The designs feature a cornucopia of the different, the unexpected, the imaginative and the damn right odd, which kids love. The designers had a field day! The result immediately resonated with kids, with packs that are deliberately busy and exciting, with lots to look at."
It was important to appeal to parents, too, as they are the purchasers. The packs show the key benefits, such as 'low in fats' and 'popped not fried', clearly for the shopper to see but without interfering with the overall or look and feel.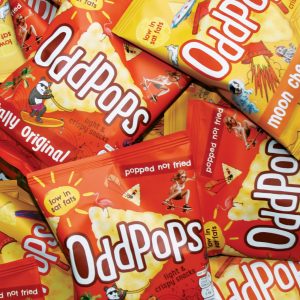 Kim Gelling, OddPops Marketing Director, says, "This new brand is an exciting adventure for Ella's Kitchen Brands Ltd, offering consumers products we believe in. The branding and design perfectly reflect our approach of understanding how kids think first. We wanted to appeal to children's creative and exploratory natures while offering a healthier option."
The brand is being soft launched in 15g packs and two flavours – Totally Original and Moon Cheese – with plans for wider distribution in the coming months.
Source: Biles Hendry