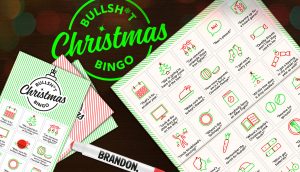 Manchester based creative consultancy Brandon makes a point of cutting out the bull in marketing, using language we all know and understand.
So, in 2017 the team decided to turn this into a fun Christmas game to send out to those they work with, friends and family – with a good dose of Northern humour thrown in for good measure. Bullsh*t Christmas Bingo features many phrases commonly heard during the festive season such as:
"What time's the Queen on?"
"Quality Streets aren't like they used to be."
"All this tree does is drop needles!"
"Chicken Run is on."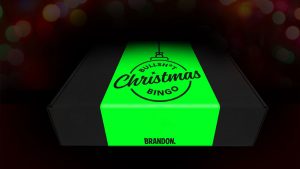 Players can take part on Facebook, Twitter, Linkedin or Instagram for a chance to win prizes.
Richard Taylor, Managing Partner, Brandon, says: "We believe in plain English and cutting the marketing bull that we hear daily. That's not to say there isn't a place for a cliché every once in a while. And when better than at Christmas? We wanted our brilliant client partners, family and friends to join in our celebration of some well-trodden festive phrases, old chestnuts and beloved once-a-year rituals with a game of Brandon's Bullsh*t Bingo. We thought this would be a fun way to send up Christmas in a light-hearted way, give everyone a good laugh, whilst also sharing our straight-talking approach to how we work at Brandon."
Source: Brandon