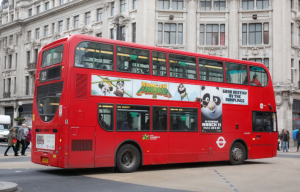 Exterion Media has partnered with Shazam and Fox to bring a beacon-enabled ad campaign to London's buses.
In what is the first time beacons have been used on the London bus network, Fox movie Kung Fu Panda 3 will be promoted through a campaign that uses both outdoor advertising on the side of the buses and mobile technology on passengers' devices.
Promotion of the film is underway on the side of buses now, while the beacon-enabled campaign will kick off when the film is released on March 11.
Passengers using the Shazam app on the bus will be served Kung Fu Panda 3 content such as the promotional trailer, and will also be able to use Shazam to book tickets to see the film at their local cinema.
"This is a fantastic, engaging campaign that exemplifies the potential of beacons – something we've been championing for a long time," says Mike Wood, product and innovation director at Exterion Media.
"Until now, pedestrians have been the predominant beneficiary when it comes to bus advertising, but now we can directly reach commuters during the millions of bus journeys being made every month with relevant, timely and engaging content in an unobtrusive way."
Sam Woods, VP international strategic partnerships and UK sales at Shazam, says that the partnership demonstrates the app's evolution. "As one of the first ever apps in the Apple Store, Shazam has been at the forefront of mobile innovation for as long as there have been smartphones," he says.
"Bringing Shazam-enabled moments to London bus users is a hugely exciting milestone for us, and precedes our expansion into other environments."
Fox marketing director Chris Green, says the partnership with Exterion and Shazam will allow the company to engage moviegoers at a deeper level than traditional outdoor ads. "What is also very attractive is that the technology will return accurate data on which audiences are engaging with the campaign, which will be valuable to both this and future campaigns," he says.