GambleAware, the independent charity tasked with reducing gambling harms in Great Britain, has launched 'Bet Regret', a safer gambling campaign designed to raise awareness of impulsive betting in order to encourage moderation and reduce gambling-related harm.
Bet Regret describes the universal feeling of remorse sports bettors often get when they make an impulsive bet – the kind of bet that bettors say they will know they will kick themselves for the moment they made it.
Created by M&C Saatchi, it aims to encourage self-reflection among a target audience estimated at 2.4m of men aged 16-34 who gamble regularly on sport, mainly online, as well as help their friends and partners recognise the signs of Bet Regret. It is focused on stopping people being drawn into more problematic gambling behaviour.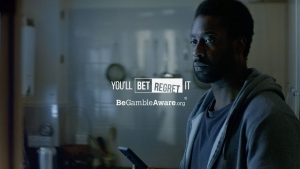 The campaign was developed after extensive research, consultations with academic experts and several waves of focus groups with frequent bettors.
A survey conducted by Ipsos MORI on behalf of GambleAware provides a snapshot of the current attitudes and behaviours of the campaign's audience. Some 63% of respondents said there are too many opportunities to bet nowadays, with 67% agreeing that it is easy to get drawn in to make impulsive bets.
Directed by Chris Palmer of Gorgeous TV, the light-hearted ad campaign identifies the environments and situations that can lead people to make ill-considered bets, helping them think twice. Each creative finishes with the endline, 'You'll Bet Regret It'.
One spot features an inebriated man in a kebab shop toying with the idea of betting on a central American Cup fixture. He is instantly transported to a TV studio in Panama where he is mocked, in Spanish, by the local pundits for his lack of knowledge of the teams involved.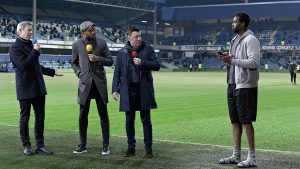 A second reveals a bettor furtively moving from sofa to kitchen to avoid his partner discovering a recent betting loss. As he seeks to chase his losses, he finds himself pitch-side at QPR's Loftus Road stadium, being interrogated by BT Sport's Matt Smith and former Welsh internationals Dean Saunders and Danny Gabbidon.
The final spot, focused on horse racing, sees a bored office worker placing a bet while at work and will be revealed just before Cheltenham.
This is the first work from M&C Saatchi since it won the account in July 2018, following a competitive pitch. M&C Saatchi Sport & Entertainment has also been appointed to deliver the consumer activation and PR.
The first TV ad will air during the Manchester United versus Liverpool Premier League fixture on Sunday, 24 February. In addition to TV, the campaign comprises digital ads, OOH, social, PR and experiential activity designed to reach young male gamblers in their own communities.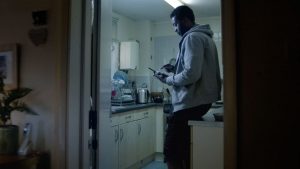 Justin Tindall, chief creative officer at M&C Saatchi, said: "We've all done it. Placed a bet that seems like a good idea at the time – usually when you've had one too many, have got time to kill or are chasing a losing streak. And these days, it's never been easier. A couple of taps and before you know it you've got a tenner on a midtable clash in the Korean K League. This campaign aims to mirror the behaviours of its target audience while introducing them to Bet Regret; that uneasy feeling you get when you place a bet without really thinking it through."
Professor Sian Griffiths, GambleAware Trustee and deputy chair, Public Health England (interim) said: "The Bet Regret campaign is about raising awareness of behaviours that people might not always recognise as impulsive or risky, such as sports betting when drunk, bored or chasing losses. We want people to identify with the campaign, realise they too have those kick-yourself moments when betting and reflect on their behaviours, thus preventing future ill-considered bets which are so often the pathway towards harm."
GambleAware established the Safer Gambling Board, which is made up of representatives from Public Health England, the Department for Digital, Culture, Media and Sport, the London South Bank University Centre for Addictive Behaviours Research and GambleAware itself, after being invited by the Minister responsible for gambling policy to design and deliver a campaign, based on best practice in public health education. The campaign is being funded through specific, additional donations to the charity, in line with a commitment given to the government by the broadcasting, advertising and gambling industries. Sky, BT Sport, ITV, Google, Clear Channel and Channel 4 are amongst those who have donated space.
It is one part of GambleAware's wide-ranging actions to reduce gambling-related harm by considering individuals, the products and the environment in which they are found.
Source: M&C Saatchi