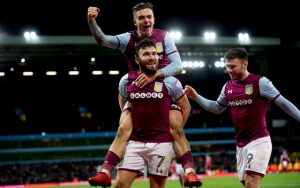 Great State has been appointed by Aston Villa to deliver a customer-first digital proposition to market, enriching fan enjoyment and participation with a modern approach to the club's digital portfolio.
The agency will work with Villa on overarching strategy and ambitious development plans for the ongoing improvement of Aston Villa's digital B2C channels, including their official website.
Great State will provide Digital Product Development and Innovation to ensure that fans around the world are provided with cutting-edge technology solutions and first-class customer experiences at every touchpoint. Moving towards more owned media, a wider syndication to third party channels and increased personalisation to each individual fan.
They were invited to pitch following publication of its ground-breaking Football Report which featured deep insight into current trends and practices in the game and the expectation gaps facing today's modern football fan.
Will Radford, Head of Media & Content at Aston Villa FC, said: "We're trying hard to upgrade our entire digital footprint at Villa, sourcing and developing partnerships that can bring fan-facing channels to the forefront of our communications. We have a start-up mentality and in the current landscape are keen to find firms who offer value but also genuine creativity and innovation. Great State fits that model well, they are young and hungry to achieve great things in the sports and technology space. We can't wait to get started."
Neil Collard, Managing Director at Great State, added: "It's a real privilege to work with a client like Aston Villa. Our Football report highlighted that digital now attracts more fans than traditional media, something that resonated with Villa and ultimately lead to our partnership. We share the belief that it's critical to give this the investment and focus it deserves to maintain relevance with Villa fans and partners worldwide. Together we will establish Aston Villa FC as digital leaders on the global football stage. We're proud to be #PartOfThePride"
Great State will replace incumbent, Reading Room, and start work immediately.
Source: Great State