On February 23, men's care brand Harry's will launch a unique partnership with Premiership and England footballer Harry Kane. The campaign, devised by creative agency Brothers & Sisters, embraces difference, integrity, hard work and determination.
The hero 30-second monochrome ad, directed by Caviar's Thomas Ralph, opens on a football pitch in Chingford, London. A figure in a football kit stands, balancing boldly on top of the crossbar. As the camera pans in, he comes into closer focus.
He continues, "I am not afraid to lead, I am not afraid to be criticised, to ask for help, to tell my daughters I love them. I am not afraid to be myself and if that makes me different, I'll choose different every time."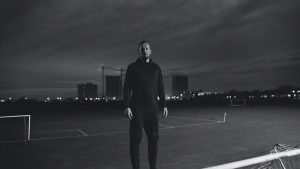 The campaign seeks to recognise that every man is different. The final shot of the ad focusing on 'The Truman' handle; the signature Harry's razor that is 'Made for Every Man'.
Harry's have partnered with Kane, not only for their shared name but for their shared values on amplifying the conversation around men's mental health.
Founder of Brothers & Sisters, Andy Fowler comments: "We set out to make a piece of work that would stand out from the crowd, just like Harry Kane stands out from the crowd and Harry's razors stand out from the crowd. One shot, in black and white, with Harry Kane opening up, while standing on the crossbar of the pitch in Chingford where he scored many of his goals as a kid. It's not like other ads. And all the better for it."
#IAMNOTAFRAID will play out across television, digital video, Harry's and Harry Kane's social channels.
Source: Brothers & Sisters