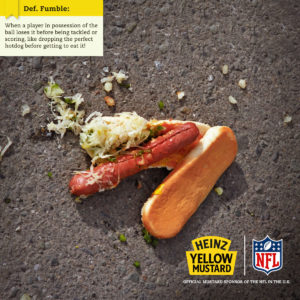 Heinz Yellow Mustard is marking its partnership as the new Official Mustard sponsor of the NFL in the UK with an integrated campaign created by creative social agency Media Bounty.
Heinz's partnership with NFL UK is brought to life through the Ultimate Playbook, a series of creative assets designed for social, print and outdoor channels, supported by in-store execution in Tesco featuring POS, and shippers.
Supporting marketing activity includes a competition running throughout the NFL's London games season, with fans encouraged to upload their "ultimate play" to the Ultimate Playbook to be in with the chance of winning the main prize of trip to Super Bowl LII in Minneapolis.
Media Bounty managing director Jake Dubbins said: "To add colour and flavour, we've created a series of visual assets which explore the different rules and regulations of NFL. These draw on the game's glossary to explain terms such as fumble and touchdown, aligning Heinz Yellow Mustard as the perfect accompaniment for game day staples like hot dogs and burgers."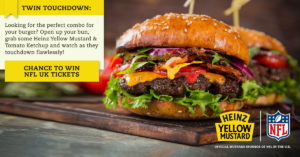 The campaign, which runs for four months, is planned through OMD with supporting social activity by Multiply and website build by MagLabs.
Joel Hughes, senior brand manager, Heinz Yellow Mustard, said: "The partnership between our mustard and the NFL in the UK is extremely exciting as it places Heinz Yellow Mustard as the go-to condiment at the NFL games, therefore driving further awareness of the brand and its fantastic taste credentials."
Heinz Yellow Mustard is the number one yellow mustard on key metrics of 'great quality' and 'worth paying for more'.
The NFL has played 17 regular season games in London in the past decade and is set to play four fixtures for the first time this season, including two at Wembley and Twickenham Stadiums. Television coverage is carried by the BBC, Sky Sports, iPlayer and GamePass, attracting audiences of around 23 million.
Source: Media Bounty