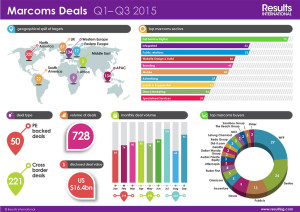 Research released by specialist marcoms M&A firm Results International has shown that the number of global marcoms deals completed in Q3 2015 rose by 7% from Q2 (264 deals in Jul-Sep compared to 246 in Apr-Jun). This has been driven largely by a jump in the number of cross-border deals.
More than a third (36%) of global M&A in the sector was international in Q3, compared to around a quarter (26%) during the previous three months. A large proportion of WPP's acquisitions were cross-border, plus it maintained a minority stake in the $600m acquisition of Chime Communications by Providence Private Equity.
WPP made 14 acquisitions in Q3 including targets in Brazil, India, Turkey and Belgium, and 29 investments in Q1-3 as a whole. But while WPP remains the busiest buyer in the sector, the study also found that emerging buyers continue to appear in 2015.
For example, Teneo Holdings, a US-headquartered consultancy firm backed by BC Partners, expanded its practice into Europe with the acquisitions of UK-based Blue Rubicon and Stockwell Communications in Q3 2015. Meanwhile, Stroer SE, a publicly-listed German out-of-home and online advertising company, made three deals in Q2. US-based search engine marketing company Did-it.com has also been notably acquisitive, with a transaction every quarter since the start of the year (three in total).
Other notable cross-border transactions in Q3 included Indian IT services company Wipro Digital buying Danish website design and build agency Designit (for a reported $94m deal value) and Mindtree, another Indian IT services company, acquiring UK e-commerce integrator Bluefin Solutions.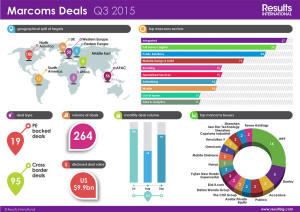 The lion's share of Q3 deals still involved targets based in North America (38%, but down from 46% in Q2) and the UK is losing some market share (12% of deals during Q1-3 in total, compared to 15% in Q1-3 2014). Conversely, there was a notable increase in activity involving APAC businesses, rising from 16% of deals in Q2 to 21% in Q3 2015.
The value of deals in Q3 also jumped from the previous three months ($9.9bn compared to $2.6bn in Apr-Jun), but this was largely due to a consortium of Asian investment companies acquiring China-based out-of-home advertising giant Focus Media Technology for around $6.3bn.
According to the research, integrated agencies usurped full-service digital during this past quarter as the most popular sector for acquirers (10% of the total, against 7% in Q2). The integrated sector was also responsible for 7% of all global deals in the first nine months of 2015, compared to only 4% during Jan-Sep 2014.
Julie Langley, partner at Results International, comments: "The rise in cross-border activity has come about in large part due to brands requiring a global service from their agencies and pushing them to enhance their global footprint. The other key driver is the emergence of new players, such as IT services companies, Asian networks and private equity-backed acquirers."