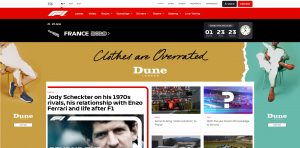 Inskin Media has announced a global advertising partnership with Formula 1, to exclusively deliver high-impact, non-intrusive Pageskin ad formats for the very first time across Formula1.com.
Formula 1, the pinnacle of motorsport, is watched by an audience of 550 million a year and takes place in 21 countries, across five continents. The deal opens up an incremental revenue stream for F1 and further expands Inskin's premium network. It will see F1 run Pageskins across its site in the UK, followed by multiple markets around the globe, including Australia, Germany, Singapore and the United States.
The partnership comes as part of F1's ongoing digital transformation journey, which has seen it embrace technology and innovation to provide new opportunities for global growth and the creation of powerful experiences for its fans.
The Pageskins will be available on desktop initially, with a view to going live on smartphones in the near future. F1 will be using Inskin Creator – a brand new template-based web tool, which enables the creation of Inskin Pageskin ad formats without any previous coding knowledge. The templates, which come with predefined animations and Inskin's signature scrolling sides and recommended "on scroll" interaction, are designed to capture attention based on years of eye-tracking research.
Alex Barstow, Head of UK Publishers, Inskin Media commented: "We pride ourselves on working with the world's best publishers and F1 is no exception. This is a hugely exciting partnership which ultimately provides a powerful platform for advertisers to reach, and get the attention of, a vast and passionate audience across the globe."
Frank Arthofer, Director of Digital and Licensing at Formula 1 added: "Our digital ambition is to provide powerful, immersive and unforgettable experiences for our dedicated legion of fans – and this spans right through to their experience with online ads. Inskin compliments this exactly, a premium network bringing creative and flawless delivery of ads, plus a brand-new source of revenue."
Source: Inskin Media