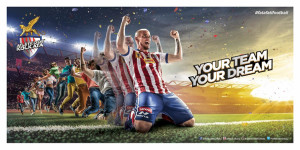 When J. Walter Thompson won the creative mandate for Atletico de Kolkata (ATK), the Indian Super League (ISL) team from Kolkata after a multi-agency pitch in June this year, the brief to the agency was to make ATK a true leader – on the pitch and in the minds of its fans.
In order to achieve this objective, the campaign had to forge an emotional bond between those with a Kolkata connect and ATK. The 360 degree campaign planned by J. Walter Thompson Kolkata is doing just that– galvanize fans and unify them in their support of ATK.
As a game, football unites Kolkata as much as it divides. Loyalties are split between Mohun Bagan & East Bengal, Man Utd. & Chelsea, Barca & Real Madrid and Brazil & Argentina. ATK bridges this great divide, bringing together fans who are otherwise poles apart. This was the genesis of the campaign idea – 'Your Team. Your Dream.'
The communication task was to strike a chord with all individuals who have a connection with Kolkata, regardless of where they are presently located. The campaign had to appeal not only to supporters of the local city clubs (Mohun Bagan & East Bengal) but also to those who follow the English Premier League and La Liga.
As Arjun Mukherjee, VP & Sr. Creative Director, J. Walter Thompson Kolkata says, "Football fanaticism runs in the veins of every Kolkatan. While the supporters of the traditional football clubs are ferociously divided, the idea was to bring them together on a common platform at the new temple of soccer – Atletico de Kolkata."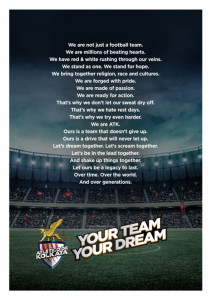 The legs of the campaign include Print, Outdoor, Film, Digital, Stadium Decor, Player Kits, Anthem and Merchandising elements. Ideas on how to keep the excitement alive right through the year will also be put in motion.
"The campaign aimed to bring alive the feverish emotions and unflinching support. More than winning or losing, the idea was to instill a sense of immense pride and also to get the new generation back inside the stadium. Behind every great soccer club there's always an army of die-hard supporters, and when there are fans backing you, every impossible goal becomes possible", adds Mukherjee.
The cornerstone of the campaign is a stunning pool of 4 visuals, each of which depicts a trail of fans culminating in a player(s). The fans in the trail are emulating the action of the player(s). Each creative features the campaign line – 'Your Team. Your Dream.'. The campaign has struck a chord with every one connected to the city.
The campaign line – 'Your Team. Your Dream.' – has the potential to unite a city for which football is not a game but a religion. It evokes intense emotions among fans, igniting their passion, helping them identify themselves with their team and become an inseparable part of ATK's journey.
ISL is an annual football tournament played between teams from 8 cities between October and November. By virtue of winning the inaugural edition last year, ATK are the defending champions.