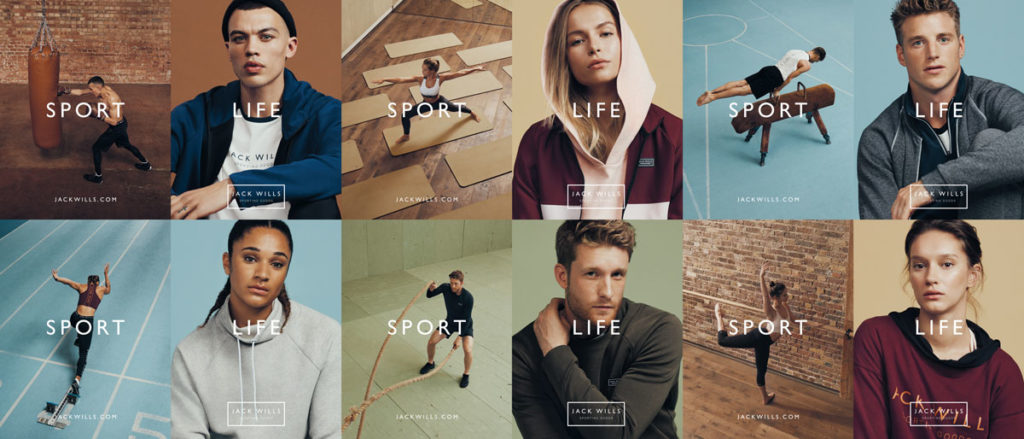 Jack Wills launches its fully integrated AW17 SPORTxLIFE athleisure campaign, in which the British fashion retailer has enlisted a diverse selection of athletes and social influencers to demonstrate the versatility of the new season's sporting range.
To authentically bring the global campaign to life, Jack Wills worked with entertainment marketing agency, ITB, to incorporate unconventional and diverse sporting talent that maintain a genuine resonance to the brand and its audience.
In response to its target audience evolving the use of the brand's athleisurewear from workout wear to everyday life, Jack Wills launches an elevated, sleek and modern AW17 range to accommodate the alternative use of its clothing. The holistic campaign, which was creatively devised by Wednesday, necessitated finding the right talent to be engaged across multiple touch points and brand assets, including BTS films, PR appearances, Q&As and social media activity.
Jack Wills is a brand built on dressing a 'spirited and inspired youth' with a sense of purpose, adventure and freedom, so ITB sought a diverse range of influencers specific to particular sports to showcase their individual sporting strengths and demonstrate the versatility of its new range.
Boxer and actor Dudley O'Shaughnessy, model Emma Louise Connolly and Nia Pettitt, founder of Fro Girl Ginny, were all enlisted for the campaign, alongside GB athletes James Cook and Jodie Williams, personal trainer and health coach Max Lowery, contemporary dancer Renee Stewart and model and fitness instructor Roger Frampton.
The athletes featured represent their individual sports with textured imagery of their sporting lives paired with cool, clean lifestyle imagery in their home lives, demonstrating the new season versatility of the brand.
Antonia Thompson-Weisman, Group Strategy Director of ITB, comments: "Our mission was to help bring the rich creative to life through a diverse range of athletes and influencers who align with the brand vision and could ultimately illustrate the SPORTxLIFE dichotomy in the most authentic way possible. When casting for this campaign, the need for diversity saw us searching for influencers who are unconventional and niche in their creative and sporting disciplines."
The six-month campaign launches today in the UK, North America, Germany, Asia and the Middle East.
Source: ITB