PUMA's creative agency of record for football special projects, Knas, has tapped into London's architecture and youth culture aesthetics to create a series of energetic print, Instagram and video teasers to promote the 2018/2019 Arsenal kit.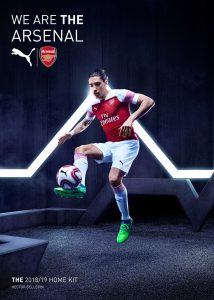 'The Beat of the City,' (which is part of the 'We are THE Arsenal' campaign) featuring club stars Héctor Bellerín, Nacho Monreal and many others, highlights the new kit design by using graphics inspired by different elements of the club's heritage.
The campaign also represents a shift in how Arsenal communicates with its fan base, understanding that youth culture influences football and not the other way around.
Knas, says: "We approach consumers as people, friends and enthusiasts who see world with  the same optimism we share. As an agency our aim is to create something that is culturally relevant to the consumer. For The Beat of the City, we went after the city's youth culture which is propagated from the inside out.  The kit changes are brought to life in a way that speaks to a younger audience through the city of London."

Source: Knas