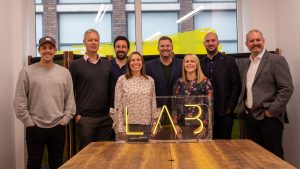 LAB, the independent digital agency that uses a blend of consumer neuroscience, psychology and behavioural economics to design, build and market digital brands and experiences, has announced the formation of a new group structure and the acquisition of digital marketing agency Reflect Digital.
Reflect Digital is the first agency to be acquired by the new LAB Group, as part of an ambition to bring together a number of different marketing businesses in order to build scale and offer clients a broader range of services. LAB Group agencies will all receive training in LAB's unique methodology, which centres around human behaviour and consumer neuroscience.
The Kent-based Reflect Digital has 25 people and adds many complementary capabilities to the group's offering, including SEO, PPC and analytics. Its clients include Betfair, South Western Railway and Egress Software Technologies.
The move also sees LAB Founder and CEO, Jonny Tooze, taking the lead as Group CEO. LAB's Sales and Marketing Director, Tom Head, becomes Group Sales and Marketing Director; and Director of Human Technology, Daryll Scott, takes on the role of Group Human Technologist. Two other LAB executives have also been promoted to new positions: Rachel Howe, Finance Director, has been elevated to the role of Group Chief Finance Officer, and Andy Mason, General Manager, joins the LAB Group board.
Becky Simms, Founder and CEO at Reflect Digital, also joins the LAB Group board.
The announcement of LAB Group follows the appointment of GoCompare.com's Adrian Webb as Chairman in October 2018. Webb is also an investor in the group. The news also comes hot on the heels of the appointment of LAB's first ever Chief Technology Officer, Mark Parsonage.
LAB and Reflect Digital already share Sage Pay as a client, and the agencies will seek to take on more joint engagements in the coming months.
The two agencies also share similar ways of working, with both adopting a progressive four-day working week for all staff in 2018.
LAB Group is raising further investment towards the end of 2019 as it looks to acquire more agencies in the future.
Jonny Tooze, CEO of LAB Group, said: "We're delighted to announce Reflect Digital as our first agency acquisition, as we embark on a new phase in our evolution and become LAB Group. With capabilities which are complementary to ours, and shared cultural values, it's the perfect match and will enable us to further strengthen and differentiate our offering for clients and help us meet our number one aim – delivering great work."
Becky Simms, Founder and CEO at Reflect Digital, said: "We are so excited to have joined LAB Group. For us, it brings new opportunities and a team-wide understanding of human behaviour, allowing us to supercharge the work we do. Watching our teams work together on projects has been so inspiring as both agencies have so much to offer, I cannot wait to see what the future holds for us and our clients. One thing for sure is you should watch this space!"
Source: LAB