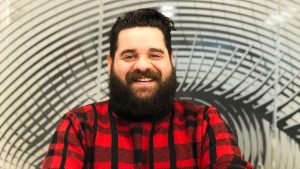 LAB, the independent digital agency that uses a blend of consumer neuroscience, psychology and behavioural economics to design, build and market digital brands and experiences, has announced the promotion of Associate Creative Director, Ipar L'Aimable (Ips), to the role of Creative Director.
Since joining LAB from creative agency Above+Beyond in December 2017, L'Aimable has led a number of major client projects, including the launch of the Tipi digital platform and the creative concept and identity for 2018's Digital Podge event. He has also spearheaded the development of a unique creative methodology based on LAB's consumer neuroscience and behavioural capabilities.
L'Aimable has picked up a raft of creative awards throughout his career. He was part of the team behind the BAFTA Award-winning 'Grandpa in my Pocket' in 2014 and the Cannes Lions and D&AD Award winning 'Momondo Friend Compass' in 2015.
A part-time beard model and graduate of the New York Film Academy with a background in animation, editing and production, L'Aimable began his career working at Platinum Films in Pinewood Studios and has also held roles at Hogarth Worldwide and McCann Erickson, where he received a Rising Star award.
In his new role, L'Aimable will continue to report to Daryll Scott, LAB's Director of Human Technology, as well as working closely with Beatrice Andrew, the agency's Head of Consumer Neuroscience.
Ipar L'Aimable, new Creative Director, LAB, said: "Looking forward, as LAB attracts bigger and bolder brands, I want to turn us into a creative force to be reckoned with, ultimately raising the bar in what we offer clients and winning some awards along the way. We seem to have made a creative elixir here at LAB, and I can't wait for more brands to start sipping on it."
Daryll Scott, Director of Human Technology, LAB, said: "Ips is a hugely talented storyteller who develops outstanding creative work based on a deep understanding of narrative and human emotion. We are delighted to recognise his contribution to our business with this promotion."
Source: LAB