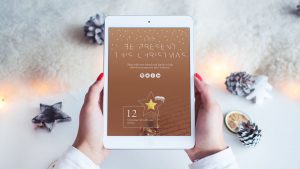 Lab, the independent digital agency that uses a blend of neuromarketing, psychology and behavioural economics to design, build and market digital brands and experiences, has revealed a new festive campaign, 'Christmas Presence'.
The initiative aims to reframe perceptions of Christmas and remind people how special the festive period really is, recognising that it can sometimes be a time of family tensions or disappointment.
The online Christmas calculator invites recipients to input their age and gender. Based on this information, the viewer scrolls up to see what they can look forward to seeing in Christmases to come, from the annoying to the delightful.
Lab will share 'Christmas Presence' with its clients and industry friends via email and on social channels.
Teodora Miscov, Marketing Manager, Lab, said: "Our 'Christmas Presence' campaign aims to show people what a special time Christmas is, although we may sometimes take it for granted. Not-so-great presents, family tensions and overpriced plane tickets – as irritating as these can sometimes be, they are a part of the holiday season and allow us to have an authentic and unique experience with the ones we love."
Source: Lab