Customer agency LIDA, part of M&C Saatchi Group, has launched a major new multichannel, multimarket advertising campaign for auction house Christie's, to promote its auction of Jeff Koons' seminal sculpture, Rabbit. The push was created following a competitive pitch.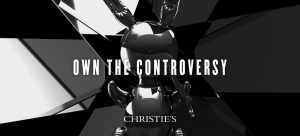 The bold, playful campaign, which aims to create a swell of conversation around the auction and ultimately affirm Rabbit's desirability amongst potential buyers, taps into the controversy which has surrounded the sculpture since it was first unveiled in 1986. Some saw Rabbit (the first of Koons' famous mirrored balloon pieces) as a sharp social comment on consumerism, while others saw it as a cheap visual trick or con.
The campaign embraces the debate around Rabbit, as it is this ongoing controversy that fuels the piece's iconic status. Drawing on the rich commentary around the sculpture, the various executions feature starkly contrasting quotes about the piece from prominent critics. People are invited to join the debate by using the hashtags #goodbunny and #badbunny.
Campaign activity includes digital and social executions running globally across the US, the UK, Germany and the Netherlands, and special activity on WeChat in Hong Kong and mainland China; as well as landmark media such as Out-of-Home in New York's Times Square (a media first for Christie's); a New York Times homepage takeover and a full-page New York Times print ad.
This is supported by print ads in art industry titles; online films exploring different aspects of the Rabbit story (titled 'Shock', 'Spectacle', 'Sex' and 'Self'); film and long-form content on Christie's social and owned channels; plus auction collateral, Rabbit merchandise and experiential installations at Christie's New York.
As part of the initiative, LIDA has created a site-specific light installation on Christie's famous Rockefeller Plaza façade. Giant neon letters spell out the word 'ICON', with the 'I' left pulsing on and off.
Rabbit will be offered at auction at Christie's New York on Wednesday 15th May, as the highlight of 20th Century Week, with an estimate of $50,000,000 – $70,000,000.
Alex Rotter, Chairman, Post-War and Contemporary Art, Christie's, said: "We have been impressed by LIDA's creativity and passion for this project. The story of this icon of post-modernism is far from straight-forward, and this brave campaign tackles that head on."
Graham Phillips, Chief Strategy Officer, LIDA, commented: "Rabbit was a thumb in the eye to the art world. We have embraced that spirit in our thinking, to create a homage to the controversy the work stirred up when it was first shown."
Ben Golik, Chief Creative Officer, LIDA, added: "If this was just a cute bunny, it wouldn't hold the intense fascination that continues today. We wanted to embrace all of Rabbit's contradictions and present both sides of the argument as being equally valuable to the story, and the value of the object today."
Georgia Graham-Leigh, Managing Director, New York, LIDA, said: "This is a very proud moment for LIDA, and a career-defining opportunity for all involved."
Source: LIDA