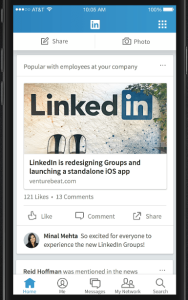 LinkedIn recently gave a first look at a new version of its flagship mobile app. Internally known as Project Voyager, the app for mobile web, iOS, and Android is still in beta and won't be available for another few weeks.
LinkedIn chief executive Jeff Weiner gave a presentation on the new app during the LinkedIn Talent Connect conference in Anaheim, California. It's a big deal because LinkedIn originally initially built its mobile app to replicate some of the functions on desktop, which was where most usage was. Now that's changed, and going forward, LinkedIn on mobile should be considerably more intuitive and useful. That makes sense given that more than 50 percent of LinkedIn's traffic is now coming from mobile devices — which is on track with other social networking companies, like Facebook and Pinterest.
The new version of the LinkedIn core mobile app features Home, Me, Messaging, My Network, and Search. There's also a new App Launcher that can send users to LinkedIn-owned Lynda.com, among other things.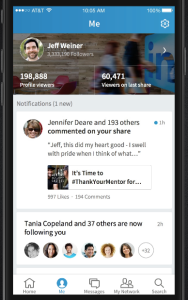 The Me section contains a whole lot of things, and it's easy to edit. It even includes an area where you can quickly check who's viewed your profile — one of the core features on desktop.
"Ultimately, this could be a dashboard for your professional life," Weiner said.
The search tool is much faster in the revamped app and provides more nuanced results, including jobs, people, and companies.
The redesigned Home section has more updates with photos, while job updates now appear in the My Network section of the app. The former is easier to scroll down, whereas the latter is more of an interactive feature.
When you use My Network, you can easily see things like mutual connections and causes that you have in common with another user. Here and in other places, LinkedIn is now making better use of its vast pools of data on mobile.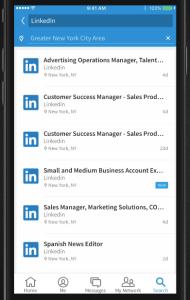 And LinkedIn wants to build on this. Like Facebook, Twitter, Google, Microsoft, and other companies, LinkedIn intends to use artificial intelligence to bolster its product. Specifically, Weiner said, AI could help LinkedIn users figure out if other users will be in the same place at the same time. "If she is, set up a meeting between the two of us," Weiner said.
The new app employs LinkedIn's new Art Deco design library, featuring new typography and other elements.
"What we're releasing is more modern, light, airy, fresh," said LinkedIn user experience design director Hemendra Kumar at a LinkedIn press briefing in San Francisco.
The LinkedIn apps for Windows Phone and Blackberry will not be updated to reflect the new Voyager design, LinkedIn vice president of product Joff Redfern said at the press briefing.