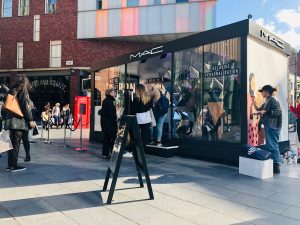 Embracing the huge variety of skin types and supporting self-expression among make-up wearers, M.A.C cosmetics has launched the Studio Fix Stick Foundations range in over 33 shades. 
Bringing this new range to life, the cosmetics brand is running the Studio Stick Foundations experience in Liverpool from 2 to 6 October to acknowledge people's differences and encourage cosmetic confidence.
Working with acclaimed illustrator Alexandra De Assunçao, the exterior of the pop-up studio becomes a live, evolving mural reflecting the true diversity of M.A.C customers – inviting real people to be depicted within the design itself.
Bringing the message back to the individual, once inside, visitors encounter the 'We've got you' wall, which literally reflects the thousands of empowering angles of anyone who poses for a photo in front of it. 
"Each visitor is also offered an expert M.A.C 'Shade Match' consultation to identify their unique foundation colour codes," explained Diana Petre-Mag, Account Director at global brand experience agency Sense, which designed and ran the campaign.
"These are then applied to any product they purchase on the day at the #GetYourFix personalisation station. The campaign emphasises the importance of the individual and diversity by giving people the opportunity to experience how M.A.C's new Studio Fix Stick Foundations range is designed to perfect each person's personal skin tone, contour unique facial curves, and highlight individual features."
Source: Sense